The wonderful world of cruises – on dry land: welcome to the Hamburg Cruise Days Theme Islands. The riverside programme from Holzhafen to HafenCity features great entertainment and food, events and performances, maritime life and an inspiring ambiance.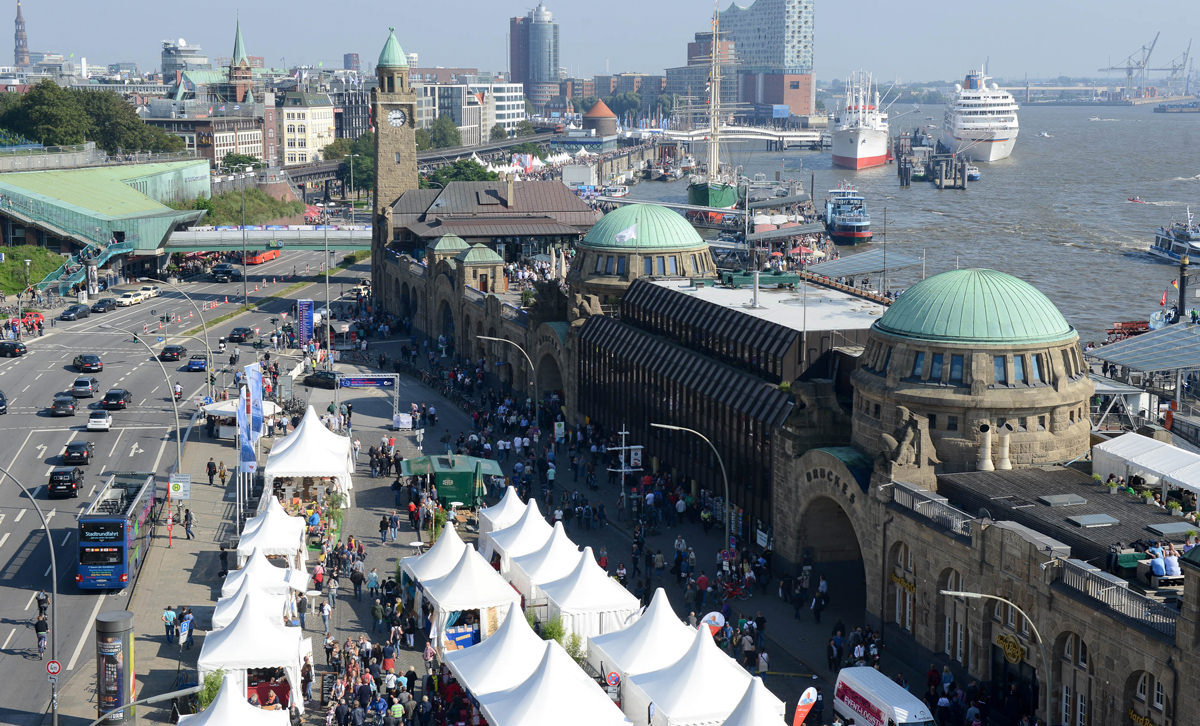 Look and marvel, stroll and enjoy: the Theme Islands along the waterfront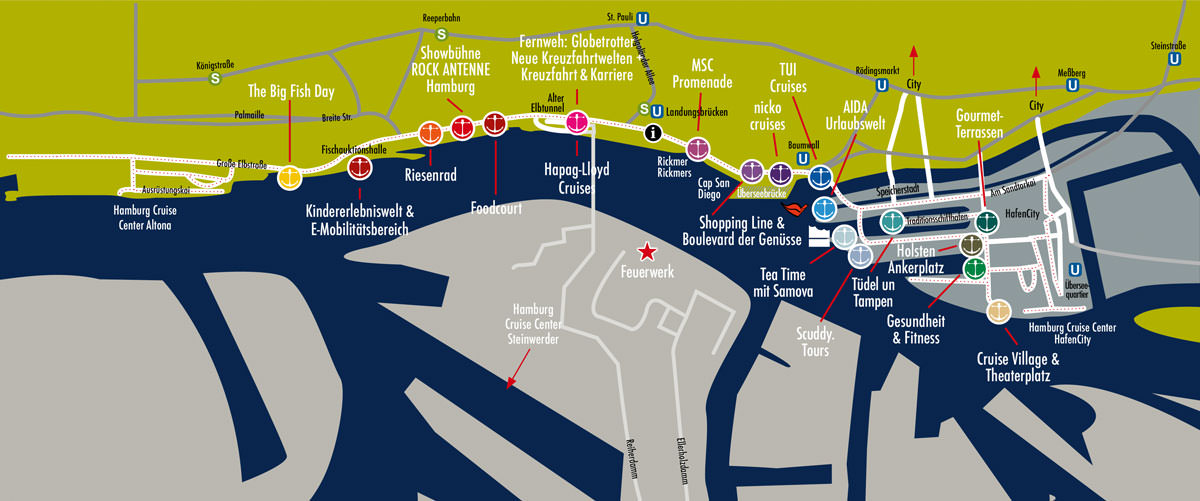 Hamburg Cruise Day Info Point
Hafentor
The Hamburg Cruise Days information booth is at Hafentor and will be happy to answer any questions you have.
1. The Big Fish Day
Holzhafen
How about enjoying delicious fish soup and mussels – and supporting a Hamburg charity project? This is the idea behind The Big Fish Day at the Hamburg Cruise Days. The soups, mussels and fish rolls will be prepared fresh by the chefs from Karolinen Catering from Kiel, and the fish ingredients are provided by Werner Lauenroth Fischfeinkost GmbH. All proceeds after costs will be donated. The motto is "Keep it simple", meaning that diners eat at wooden tables and a refundable deposit is charged for soup bowls to keep waste to a minimum. Draft Holsten beer, white wine and water will be sold, and there will be street music – if you like what you hear, drop a donation in the hat.
2. Kid´s zone
Fischmarkt
This is where kids can romp and play to their hearts' content: Zeitgewinn presents a free kids' programme with fun adventure and play areas on stage and in the marquee. The programme includes the Müller Memo Tour 2019, an XXL memory game with prizes, and Zone 30, a play area with 12 tents where youngsters are invited to enjoy fun courtesy of big-name toymakers. There's plenty of excitement to be had on the BIG Bobby-Car course with Smoby playhouses and Majorette garages – while parents can enjoy a round of the MyToys Ludo giant counter game.
KIDS AND PARENTS' MEETING POINT
The kids have set off on their own and the family needs a central meeting place? The kids and parents' meeting point is in a container located at the centre of the event site opposite the Rickmer Rickmers.
3. The E-Mobility Zone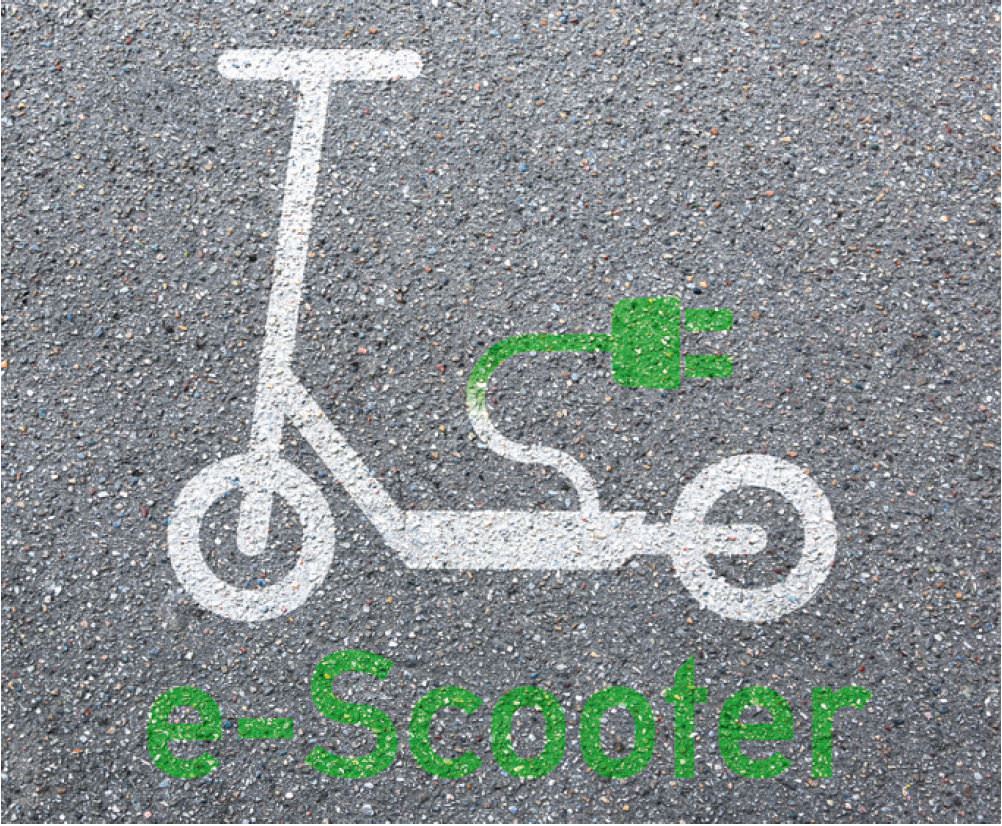 Fischmarkt
The name EVECTRO combines electricity and vehicle, and vision behind it is to open up an electrically mobile future for Hamburg. Since 2017, the company in HafenCity has been offering e-mobility services – from e-scooters and e-mopeds to e-bikes. At the Hamburg Cruise Days EVECTRO will be presenting its services and providing e-vehicles for testing (and if you like what you see, you can lease, rent-to-own or buy one on the spot). For those spending a few days in Hamburg and interested in testing e-mobility, EVECTRO offers city tours in small groups – at a comfortable speed and with a typically wry Hamburg commentary.
4. The Big Wheel
Fischmarkt
At the Hamburg Cruise Days, the Fischmarkt will be one of the prime spots – both on the ground and in the air. A big wheel gives you the opportunity to see Hamburg from a different perspective. Standing 38 meters tall, it provides a stunning view across the river, the port and the waterfront.
5. Show stage presented by ROCK ANTENNE Hamburg
Fischmarkt/Hafenstraße
The stage at Fischmarkt and Hafenstraße – presented by ROCK ANTENNE Hamburg radio station. There will be a varied programme on all event days with performances, live music and entertainment – free of charge, of course. Musical highlight: Fury in the Slaughterhouse, the rock band with hits to its name such as "Time to Wonder", is warming up for their concert at the Hamburg Cruise Days!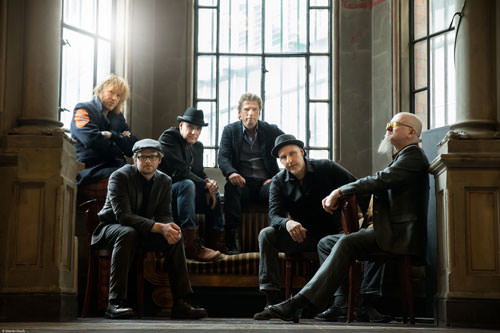 Fury in the Slaughterhouse, Friday 8.30 pm
They just can't stop: Fury in the Slaughterhouse are back – rocking the Hamburg Cruise Days this year! The Hanoverbased band will be opening the music programme on the ROCK ANTENNE Hamburg stage on Friday evening. Fans in the far north and guests from all over Germany are already at fever-pitch about it and don't want to miss this spectacular gig in Hamburg!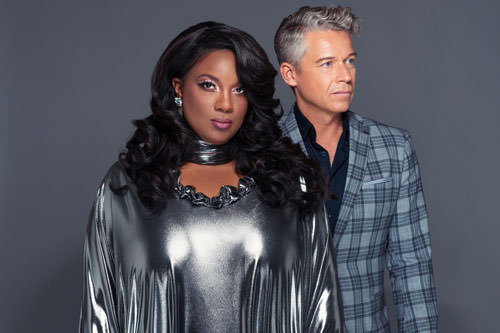 The Terri Green Project, Friday 10.30 pm
Singer/songwriter Terri Green began her music career at the end of the ´90s as part of the band 2 Eivissa, landing a hit that topped the Spanish and Italian Top 100. She made No. 1 in the British soul charts in March 2019, gaining an Independent Grammy nomination for her vocals with The Terri Green Project, now making a guest appearance in Hamburg.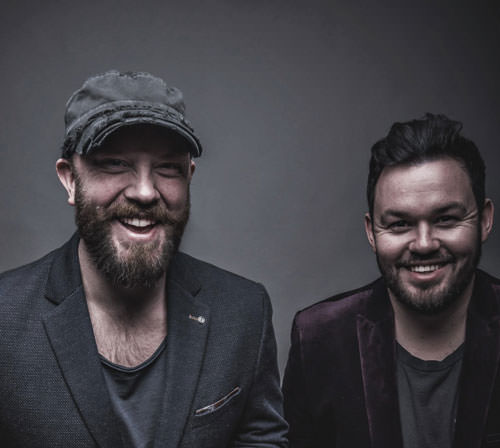 Ryan Sheridan, Saturday 7.30 pm


Irishman Ryan Sheridan is an acclaimed musician with hits such as "Jigsaw" and ballads such as "2 Back to 1" under his belt. His debut album The Day You Live Forever went platinum while "Here and Now" went straight to number one in the Irish charts. Sheridan is an exceptional guitarist and gifted storyteller with his own sound – all of which will be plain to see in Hamburg. Original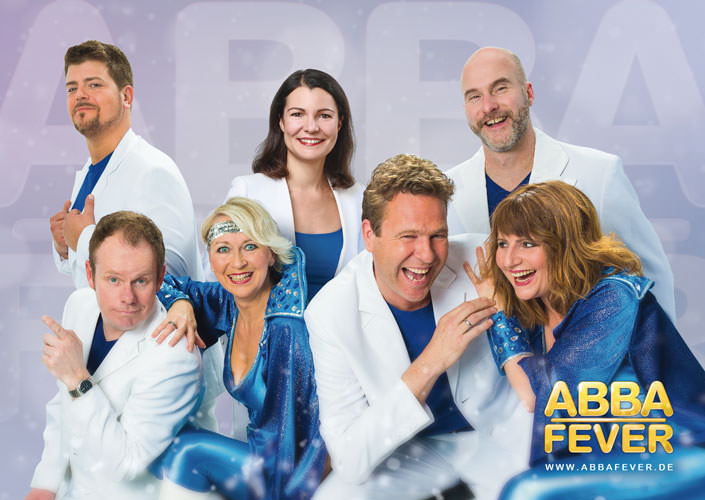 AbbaFever Tribute Show, Saturday 10 pm


ABBA is a legend: the four Swedes created one catchy tune after another and were among the world's most popular bands of the ´70s and ´80s. The seven-piece group Original – The AbbaFever Tribute Show has been reviving the magic of this unique act for 18 years now, and is considered the undisputed leader amongst ABBA tribute shows at home and abroad!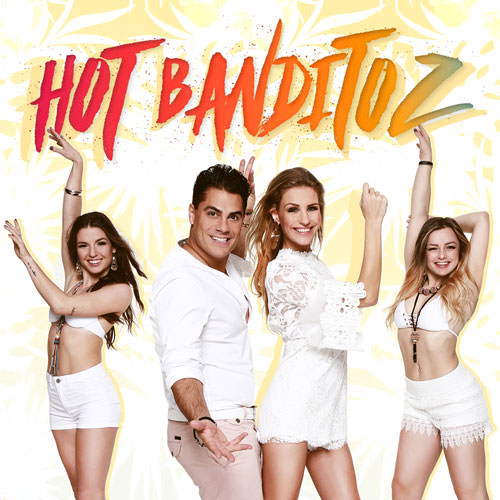 Hot Banditoz, Sunday 2.30 pm


Hot Banditoz – this name stands for sunny vibes, good mood, rhythm and some really hot beats. Hits like "Veo Veo" and "Shake Your Balla", have been providing fans with an exuberant atmosphere and the perfect soundtrack for hot summer nights for 15 years now. One catchy tune chases the next and proves: this band is really fun!
Fotos/Photos: Anelia Janeva, Ray Keogh Media, Martin Huch, Heiko Behrendt@netzwerk! eventmanagement GmbH
Bühnenzeiten
Tag
Datum
Zeit
Freitag
13. September 2019
14:00 – 24 Uhr
Samstag
14. September 2019
12:00 – 24 Uhr
Sonntag
15. September 2019
12:00 – 20:00 Uhr
6. The Food Court
Hafenstraße/Containerfläche
The Food Court is the place to go to sample Hamburg's many delicious culinary specialities. You are invited to feast in true Hamburg style – and make those taste buds sing with foodtrucks galore, delectable smells guaranteed to make your mouth water, and all manner of treats, from savoury to sweet.
7. CRUISES & CAREERS
Landungsbrücken-Vorplatz
CRUISES & CAREERS
Interested in working where others spend their holiday? The Sea Chefs, the University of Wismar/Wings, and the Maritime Center of Flensburg University of Applied Sciences will be providing information about apprenticeships, career and job offers at sea. Anyone interested in this aspect of cruises is invited to find out more about the various career paths and jobs in the booming cruise industry. This Theme Island is presented by Hamburg Cruise Net (www.hamburgcruise.net).
GLOBETROTTER NEW CRUISE WORLD
The prime cruise hotspot: at the Globetrotter New Cruise World Theme Island, our experts are on hand to provide comprehensive and unbiased information. Whether you're interested in expedition cruises, river cruises, transatlantic and transpacific cruises or sailing cruises: our team has tested countless ships for you and looks forward to making your next cruise the perfect holiday!
RITMO DEL SOL
If you want to find out what the "Rhythm of the Sun" is, look no further than the live band Ritmo del Sol, who will be playing their infectious brand of salsa, merengue, bachata and reggaeton: music that sounds like bottled sunlight. Latin American lifestyle and rhythms meet reggae and Caribbean flair in a music style that you can't help but dance to.
8. Hapag-Lloyd Cruises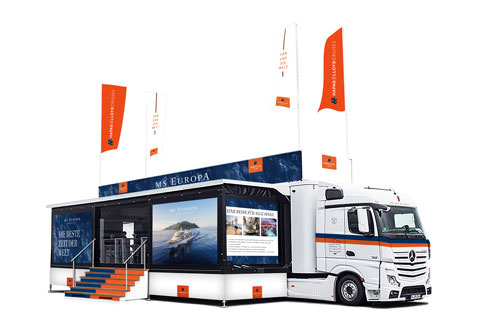 Landungsbrücken-Vorplatz
From 13 – 15 September 2019, when Hamburg welcomes hundreds of thousands of cruise fans to the Hamburg Cruise Days, Hapag-Lloyd Cruises will be joining the celebration with an unusual Theme Island: a specially built, branded truck will act as a mobile information centre, providing an authentic taste of the MS EUROPA inside and outside. Cruise director Stefanie Lämmerhirt and captain Dolf Jenckel will be offering a unique glimpse behind the scenes in live reports from on board the ship. Stefan Femerling, in charge of global supplies for the EUROPA, will be explaining how the ship's Christmas tree gets to Papeete on time and the logistics involved in ensuring that the 5-Stars plus ship is supplied with the best, freshest ingredients wherever it happens to be in the world. Corporate chef Michael Hoffmann, one of the world's leading cooks, is responsible for planning the gourmet delights served on board the EUROPA. In the truck, he explains how the creative and innovative dishes are developed and prepared, how the award-winning gourmet cuisine is constantly kept enjoyably relevant, and how modern vegan and vegetarian cuisine is incorporated. Visitors can see the MS EUROPA live at the Grand Hamburg Cruise Days Parade on Saturday evening. For more information, visit www.hl-cruises.com.
9. The MSC Promenade
Flutschutzmauer
Relax in elegant surroundings with tasty maritime food, entertainment and information for all generations – for all this and more, head to the MSC Cruises Promenade, where there will also be a wide choice of music to listen and dance to under the Magic Sky, including up-tempo electro swing. Along the banks of seats on the terrace and the stylish new flood protection wall, chill-out DJs will be spinning the decks; one highlight is Raphael Marionneau on Sunday. In true urban foodie style, food and drinks will be served from shipping containers in an inviting setting. Visitors with the urge to travel can get advice from the experts in the MSC Club or even book a cruise on the spot, and youngsters will love the charming kid's entertainment programme. One of the highlights for MSC is the christening of MSC Grandiosa in November: a sneak preview of the cruise liner can be seen here – plus there's an attractive prize draw. The MSC Preziosa is taking part in the Grand Hamburg Cruise Days Parade.
10. Shopping Line & Gourmet Boulevard
Flutschutzmauer
Shopping, great food – plus a view of the port. The flood protection wall, which was completed in May and features a wide promenade and elegant steps, will be lined with a string of stalls that beckon shoppers to browse and linger. A wide choice of top-class food and beverage stalls caters to all tastes. Cruise companies MSC Cruises, nicko cruises and TUI Cruises will also be on hand to showcase their cruises and fleets.
STREET THEATRE ON THE FESTIVAL GROUNDS
The street theatre being performed at the Hamburg Cruise Days is bound to add a burst of colour, surprise and excitement to the event: The Giant Seagulls, a curious flock of human-sized seagulls from Great Britain, will roam about and the Oakleaf Stelzentheater stilts troupe will inspire onlookers with colourful fish and sea creatures. KlabauterJan will also be floating about with his ship, Schoinschiet, and audiences are in for a good laugh with the interactive maritime comedy from the "Hara Keuli" sailors.
11. River and ocean holidays with nicko cruises
Flutschutzmauer

The nicko cruises stand is directly opposite the Feuerschiff. "Small ships – great experiences" is the cruise line's motto: as well as river cruises in Europe, nicko cruises offers fantastic cruises all around the world with its new expedition ships – from the Arctic to the Antarctic, from the Mediterranean to northern Europe and across the equator. Visitors at the Hamburg Cruise Days can look forward to expert advice on any nicko destination or trip. There will also be the chance to spin a wheel of fortune and win great prizes, as well as a competition to win an exclusive harbour cruise on the MS FREDERIC CHOPIN. Tours of the ship will be available on Saturday, 14 September; advance booking required at the stand. The brand new expedition ship WORLD EXPLORER will also be coming to Hamburg and taking part in the Grand Hamburg Cruise Days Parade on Saturday evening.
12. The TUI Cruises
Flutschutzmauer
A relaxed maritime ambiance, tempting destinations, information about the Mein Schiff fleet and interactive fun: we invite you to visit TUI Cruises' grand marquee on the new flood protection wall, where your next holiday is literally within arm's reach. Dive into the colourful world of the Canary Islands with our virtual reality glasses and explore this fabulous destination in 360°-surround videos. Or simply relax in one of our wicker beach loungers, enjoy the view across the port and daydream of exotic destinations. There will be plenty of information about the Mein Schiff fleet and experts on hand to answer any questions. Visitors of the Hamburg Cruise Days can also look forward to a wheel of fortune with the opportunity to win fantastic TUI Cruises prizes. And there's another prize draw with a cruise as the main prize! Mein Schiff 4 will be at the event and is taking part in the Grand Hamburg Cruise Days Parade on Saturday evening.
13. AIDA Holiday World
Kehrwiederspitze
Join us in looking forward to the Hamburg Cruise Days from 13 – 15 September, which we have the honour of presenting as the event's premium partner. Three AIDA ships will be stopping off in Hamburg for the event weekend, AIDAperla is the leading ship of the Grand Hamburg Cruise Days Parade. At the AIDA Holiday World at Kehrwiederspitze in HafenCity we invite you to enjoy a wealth of highlights. Discover your cruise ship home in our AIDAnova show stateroom and admire our newest AIDA ship. Our personal cruise advisors will be on hand to answer all your questions. The AIDA Holiday World also features great prize draws and lots of fun for young pirates. At the Beach Club you can wriggle your toes in the sand and dream of the sea while you wave at the passing ships in the port.
14. Tea Time with Samova
Platz der Deutschen Einheit

There really isn't a better place to enjoy a relaxed tea time in Hamburg than between the Elbphilharmonie and the Speicherstadt district, where the finest tea, coffee and spices were once stored in the warehouses. This is where samova invites visitors to the Hamburg Cruise Days to enjoy their unique teas. The Hamburg-based tea specialists are synonymous with contemporary tea culture, the finest ingredients, the highest quality standards and a commitment to sustainability. samova will be presenting its collection, with over 25 premium-quality infusion and tea blends, and innovative treats such as tea cocktails and tea sorbets for an unforgettable tea time.
DESTINATION CRUISE
At Destination Cruise, the cruise lines will be presenting their cruises on a giant 24sqm screen. Choice culinary treats will make time fly by as you watch. On Friday and Saturday, concerts from the Elbphilharmonie will be shown on the screen.
15. Sightseeing on an E-Scooter with Scuddy.Tours
Platz der Deutschen Einheit

A Scuddy? Never heard of it? That's about to change. The agile, three-wheeled electric scooter not only gets you from A to B in the city and the countryside, it's also super green and can be folded to a compact size, meaning that you can take it on public transport. If you want to find out more, the Hamburg Cruise Days offer the ideal opportunity to explore Scuddy products and services (for instance, on a city tour or a spot of sightseeing). All three models will be presented and can be tested. There's also a free Scuddy.tours shuttle between the Scuddy.tours stand outside the Elbphilharmonie and Landungsbrücken. Visitors are very welcome to pop by – and scoot off!
16. Tüdel un Tampen
Traditionsschiffhafen
Maritime items, heritage treasures and traditional crafts: all this and much more will be on sale at the Tüdel un Tampen maritime market on the pontoons at the Traditionsschiffhafen. With the wooden masts swaying to the beat of the waves and the seagulls squawking, it's the ideal place to browse old and new treasures. For more details: www. tuedel-un-tampen.de
17. Gourmet Terrace
Magellan-Terrassen
A cruise on the MS FREDERIC CHOPIN is unique: the river cruiser offers every indulgence and amenity passengers expect on a luxury trip. The public spaces are beautifully presented, as are the comfortable cabins. The intimate Panorama Restaurant serves regional specialities and international gourmet choices for a delicious culinary experience. Guests can relax on the sundeck and enjoy the beautiful countryside.
18. Holsten Anchorage
Marco-Polo-Terrassen
Hamburg's Holsten Brewery has produced beer at the heart of Hamburg since 1879 and is now delighted to welcome visitors to its Nordic beer garden on the Marco-Polo- Terrassen. A cosy, maritime atmosphere, typical north- German food and a refreshing glass of draft Holsten beer – the perfect ingredients for a relaxing break.
19. Health & Fitness
Marco-Polo-Terrassen
Sports, relaxation, wellness and great food and drink choices are clustered together at the Marco-Polo-Terrassen. Visitors are invited to try out open-air fitness sessions in special Active Spots; booths will provide information about a wide range of sports, health, beauty and wellness options.
20. Cruise Village & Theater Square
Hamburg CruiseCenter HafenCity
This special location is almost within touching distance of the giant cruise ships, and visitors can enjoy maritime-style refreshments, music and performances here. The highlight is the Theatre Square, the venue for a programme of charming music and breath-taking acrobatics. Modern architecture and a relaxed ambiance by the River Elbe provide the backdrop for the Art & Culture Theme Island.
The Artists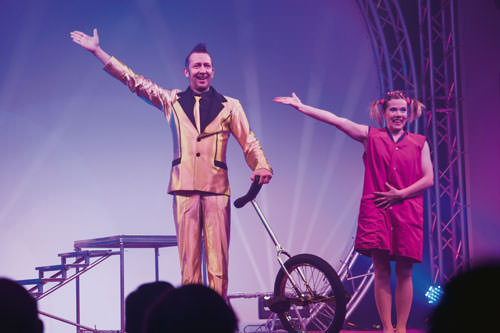 THE FARELLOS
The Farellos A sensational unicycle speed show which is pure perfection – a spirited top-class, multi-award-winning performance that is witty, humorous and energetic: The Farellos artist duo are inspiring on so many levels.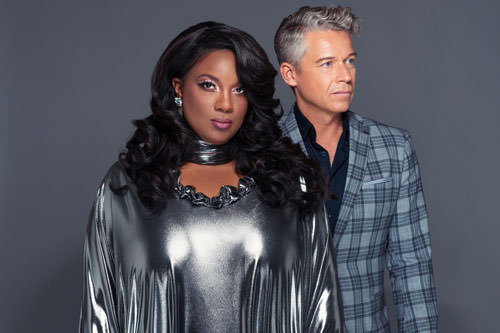 LINDA SANDER
Linda Sander is an aerial artist from Berlin: a young woman who captivates her audience with her technical ability and charisma, enchanting everyone with her own original acts and precise choreography.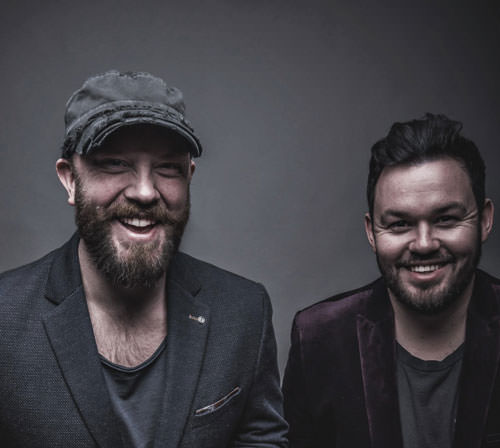 NAGELRITZ


Dirk Langer, alias Nagelritz, fuses comedy, cabaret and chanson. Modern sailor's yarns, bizarre stories and wistful sailor's ballads far removed from the usual shanties are accompanied by accordion, guitar or piano – and by Nagelritz's hair-raising shipmates Hinnerk and Raoul.
Fotos/Photos: Dmitry Shakhin, Navigo, SMA Events & Artists