Sailing into greener waters
Despite all the gloomy prophecies, current industry developments show that environmental protection and cruises are not mutually exclusive. We took a look at what cruise lines are doing to boost sustainability.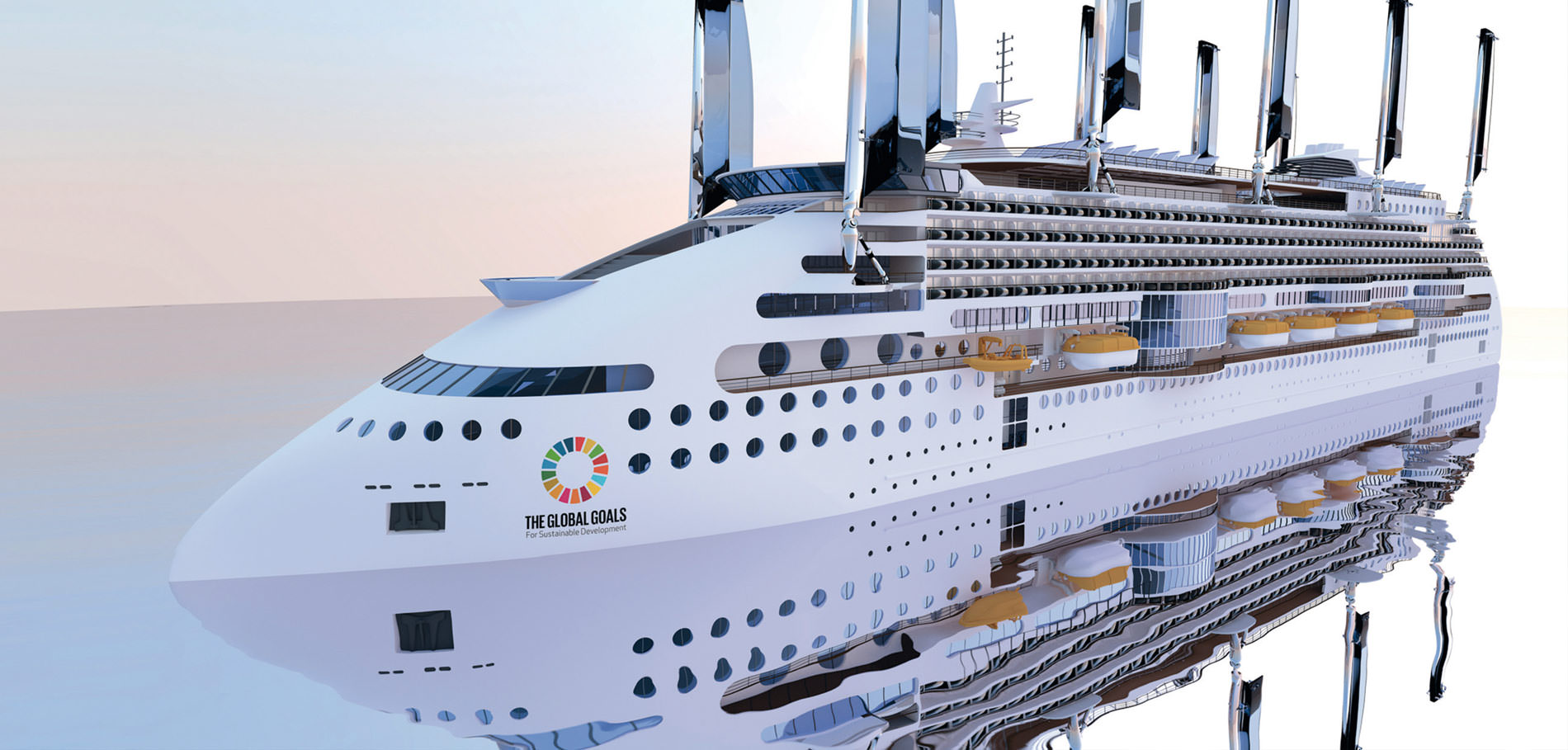 Vision for the future:
The Ecoship, owned by NGO Peace Boat, is radically green and sustainable.  
Illustration: Peace Boat
The Ecoship is a thing of true beauty with a hydrodynamic hull inspired by the shape of a whale. Ten movable masts point to the skies, harnessing the power of the wind and the sun to drive the ship. Energy generated by burning waste is used for air conditioning, heat is recovered, wastewater recycled. And, at the heart of it all, a vast green lung grows in a garden that spans five decks.
This is the vision behind a radically green ship which is currently making the step from drawing board to reality. The ship, which will be built in Finland, is not intended as a commercial venture; its purpose will be to travel the world to promote peace and educate about sustainability. It hasn't been commissioned by a cruise line either, but by the Japanese NGO Peace Boat. And while it isn't expected to go into serial production any time soon, the cruise industry is sure to be keeping a very close eye on its progress and impact.
Gone are the days when the cruise industry was accused of blithely ignoring the environment: public awareness, tenacious environmental organisations, stricter eco regulations imposed by organisations like IMO*, as well as an understandable measure of self-interest have propelled the topic to the top of the industry's agenda. "It takes an intact environment to ensure an unforgettable cruise experience," says Helge Grammerstorf, National Director of the industry association CLIA (Cruise Lines International Association) in Germany. "The long-term target of all CLIA members is to increase energy efficiency by employing eco-friendly technologies and advanced ship design, as well as promoting the use of alternative fuels."
LNG – fuel for the future
Energy generation energy consumption and lower emissions are the magical trinity tasked with navigating the cruise industry into a greener future. One of the great hopes for the future is LNG, liquid natural gas, which combusts without producing sulphur-dioxide or sooty particles, and has significantly lower NO2 and carbon emissions. "Over the next few years, CLIA members will be investing substantially more than ten billion dollars to build cruise ships that run on LNG," says Grammerstorf.

Thanks to an innovative "dual fuel" engine, AIDAprima is the rst ship in the world that can be operated with heavy fuel oil and marine diesel as well as LNG – at least in ports. The identical AIDAperla recently set off on its maiden voyage. The ships of the next AIDA generation, due for completion in 2018 and 2021, will be the rst in the world that are completely powered by LNG. "We believe that LNG is the fuel of the future," is the very clear message from AIDA. "From our point of view, LNG is currently the best solution for shipping, as it has the lowest emissions and is technically feasible."
Other cruise lines are following AIDA's lead: the first fully LNG-powered liner by af liated line Costa is due to set sail in 2019. MSC also recently commissioned two newbuilds which will run on LNG in its World Class.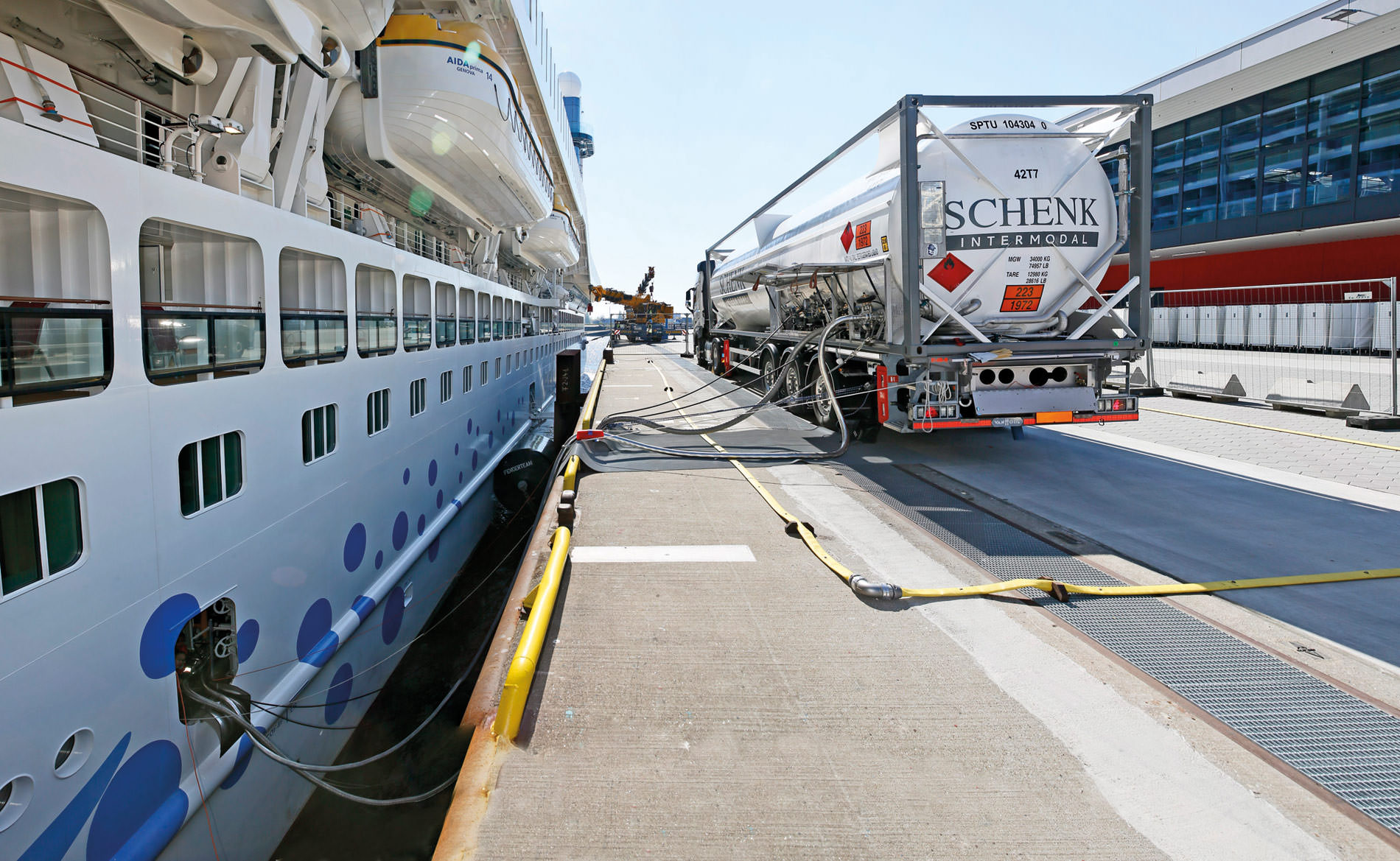 AIDAprima is refuelled with LNG – eco-friendly liquid gas – in the port of Hamburg
Photo: AIDA cruises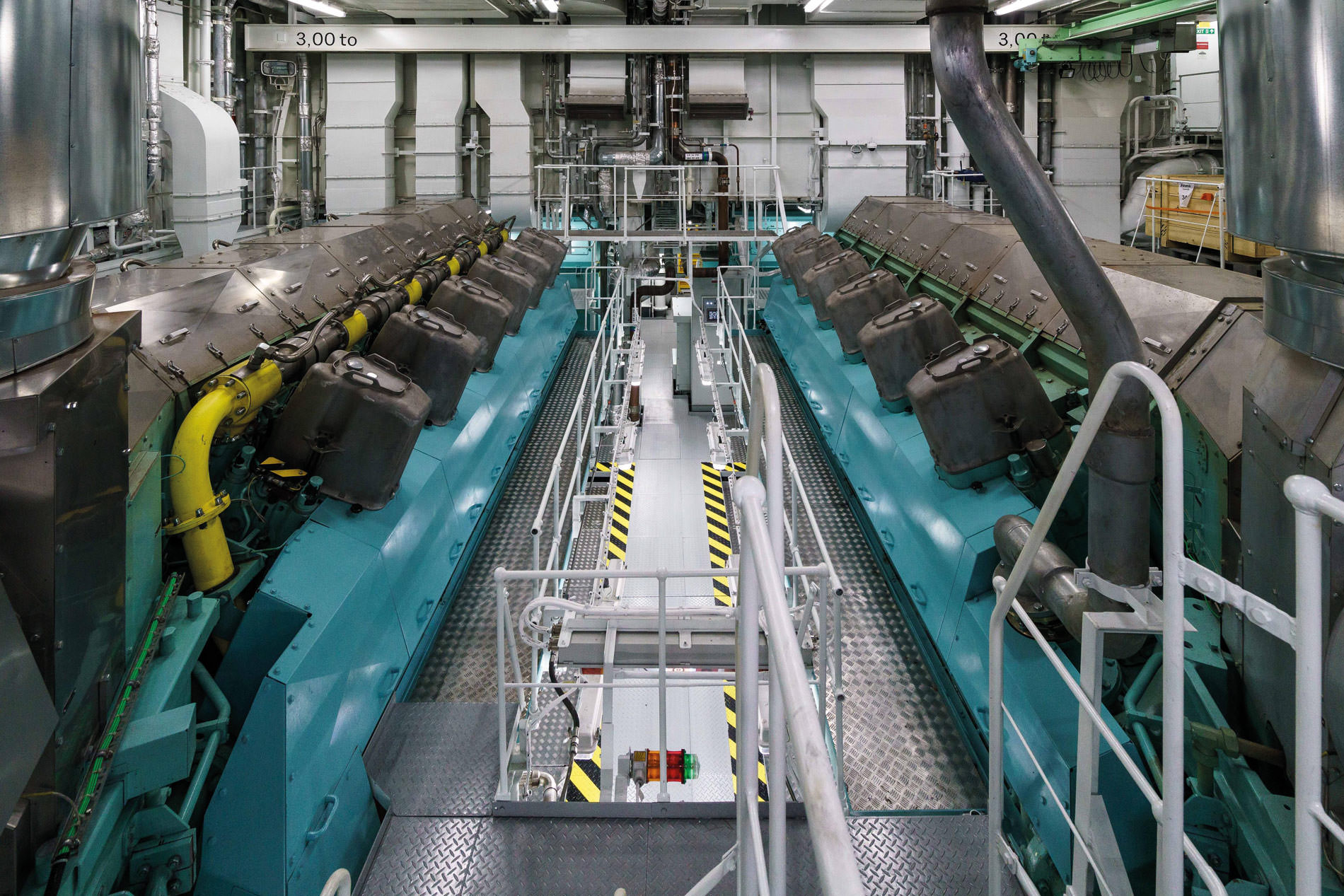 The dual fuel engine in AIDAprima allows the ship to run on LNG while in port.
Photo: AIDA Cruises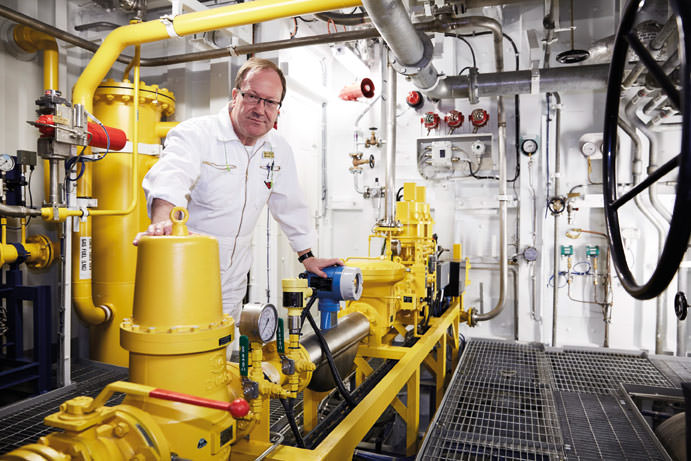 Chief Engineer Eckbert Schuster and "his" LNG technology on board.
Photo: AIDA Cruises
A host of complex environmental systems operate around the clock on board every cruise ship. Beginnings were modest.
Floating cities
A cruise ship is not just a floating hotel, it is almost a city – including all the necessary infrastructure below deck.
A desalination plant to provide a constant supply of high-quality fresh water, a sewage plant, waste separation, compression and incineration: a host of complex environmental systems operate around the clock on board every cruise ship. The beginnings were modest: "In 1975, we started developing a water-saving toilet. The first waste water treatment solutions followed in 1999," recalls Jari Jokela, Senior Process Specialist at Evac. The Finnish company fits marine vessels with infrastructure that mirrors that of towns on the land-side. Jokela has watched as increasingly sophisticated technologies have launched, including the integration of energy-saving bio film reactors (MBBR: Moving-Bed-Biofilm Reactor) and modern methods for treating water and processing waste. The water-saving toilets – which help to save 13,140,000,000 (thirteen billion one hundred and forty million) litres of water annually – are only a tiny detail in an incredibly complex, high-tech system: an energy-efficient cycle which boosts the sustainability of cruise ships and ensures that passengers enjoy every amenity they have on land.
Illustration: Evac Group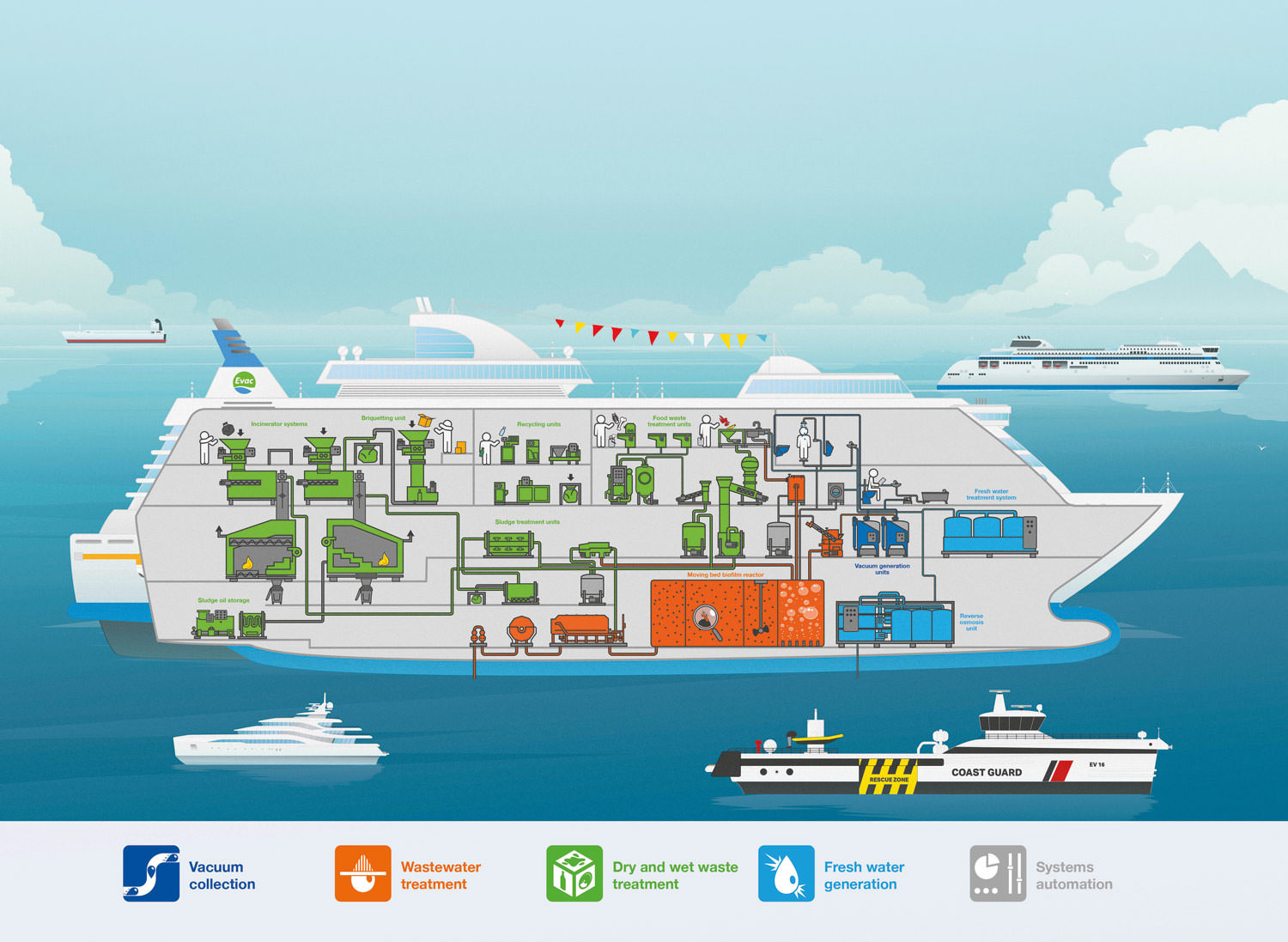 Innovations to halt emissions
Around the world, there are still roughly 300 cruise ships in operation that run only on fossil fuels, which are far less eco-friendly. However, the industry is starting to steer out of these murky waters: "Existing ships are gradually being retro tted with modern exhaust gas abatement systems," explains Helge Grammerstorf.
TUI Cruises is also preparing for a future with these systems. By 2020, the Hamburg-based line aims to have one of the industry's most sustainable eets. One element in the strategy is a combined exhaust treatment system which will be used on all the line's newbuilds, from Mein Schiff 3 to Mein Schiff 6:
it reduces sulphur emissions by up to 99%, NO2 emissions by as much as 75% and cuts particulate emissions by up to 60%. TUI employs it not just within special protection zones like the North Sea and the Baltic Sea, but on all routes worldwide. "What distinguishes this system is that it can be used in open and closed mode. In closed mode all the wastewater produced on board during exhaust gas cleaning is collected and disposed of on land, meaning that it has no impact on the marine environment. In the Baltic Sea we voluntarily operate continuously in closed mode," says Lucienne Damm, Environmental Manager at TUI Cruises.
The Carnival Group, which also owns AIDA Cruises and Costa, has developed its own treatment system, the EGCS (Exhaust Gas Cleaning System), and
 has already fitted around 60% of its ships with it. "This measure is part of the Carnival Group's US $400-million investment programme to advance ltration technology," says Hardy Puls, Country Manager for Costa in Germany. "The system has already been installed on seven Costa ships." The EGCS is a highly effective innovation that can reduce emissions by as much as 90%. "The multi-stage exhaust gas treatment units on board AIDAprima and AIDAperla are an innovative system which no other cruise liner in the world has," says Monika Griefahn, Chief Sustainability Of cer of AIDA Cruises. "We have retrofitted four other ships in our eet with these systems, meaning that currently six of twelve AIDA ships are fitted with special exhaust gas treatment systems that comply with each vessel's individual speci cations. These exhaust abatement systems have received technical approval. We switch on these systems on every route and in every port where we have a permit to use them."
Electricity – a live wire
Approvals and permits are some of the most challenging terms in the sustainability debate. Implementing eco-friendly solutions not only demands vision, ideas and cash, it also takes time. AIDA is more than familiar with the challenges of bureaucracy. "There are so many standards, legal guidelines and approval processes. The authorities urgently need to streamline these, because they are a factor that is delaying the approval process considerably," explains Monika Griefahn. Several years ago, AIDA started engaging in a dialog "at working committee level" with the EU and the German government on this and other topics.
LNG also still faces a few hurdles. Helge Gram- merstorf says, "Worldwide, there are presently 13 cruise liners that could be completely operated with LNG – once the necessary infrastructure for the supply of LNG is provided." This also means while the ship is docked in the port. Hamburg has an LNG barge, the Hummel, which could supply ships berthed in HafenCity with eco-friendly pow- er. However because it is not classed as a ship, but as a oating power plant, the approval processes for this pioneering project are dragging on.
At Steinwerder Terminal, a refuelling truck supplies AIDAprima with LNG. Since May 2016, it has been used 70 times, which is great news for cleaner
air, as each AIDA ship spends roughly 40% of its operating time in a port.
Shore power is one example of just how long it can take to implement good ideas. Hamburg is one of the first ports in Europe that can supply power-hungry cruise liners with shore electricity and even green power thanks to a new unit at Cruise Center Altona which took two years to build, and cost a substantial 10 million euros; it was funded by the federal government, the EU and the city of Hamburg. Unfortunately, it is idle a lot of time.
This is not only due to the comparatively high cost of shore power. Across Europe, there are hardly any other ports that offer this eco-friendly option for cruise liners. And because the infrastructure is lacking, the cruise lines are reluctant to invest
 in the necessary equipment on board. There is a glimmer of hope on the horizon, though: AIDAsol is a regular customer. The Rostock-based line's newbuilds, AIDAprima and AIDAperla, have two shore power connections each and further ships could be retro tted. "Many cruise ships have the technology needed to use shore power – but few of the ports we stop off at can supply it," says Helge Grammerstorf.
Sustainable cruising is an area where initiatives, regulations and activities tailored to making ships greener collide with rules and laws that prevent swift implementation. Helge Grammerstorf knows that it takes patience and a great commitment to dialog between cruise lines, authorities, suppliers and ports. "Only if we work together with a good will can we achieve these ambitious goals."
The stakeholders have started to rethink the industry. The development and installation of new technologies may be expensive, but it pays off: these innovations protect the environment, make operations on board more ef cient, and boost competitiveness. Who wouldn't want to enjoy a trip on the world's most eco-friendly cruise liner? Cruises and the environment are beginning to come together: the journey into a greener future has begun
The next big thing?
Eco-friendly power generation with fuel cells – could this be the next big thing in the cruise industry? Businesses and institutions have joined forces in the e4ships project to study and test this new technology, including AIDA, the Ministry of Transport, ship classi cation company DNV GL, the Meyer Werft shipyard and thyssenkrupp marine systems. The results are very encouraging: "Compared with conventional systems driven by marine diesel or heavy fuel oil, significant reductions in noise and emissions have been achieved", states the report. Almost just as important is the fact that the results of the project have been included in the preparation of international regulations. Ideally, when the day comes and fuel cells are introduced as standard, the relevant rules and regulations could be ready and waiting.
A fuel cell generates emission-free energy through the electro-chemical reaction between hydrogen and oxygen. The US cruise line Royal Caribbean intends to use this technology in addition to LNG fuel in all newbuilds of the Icon Class from 2022.