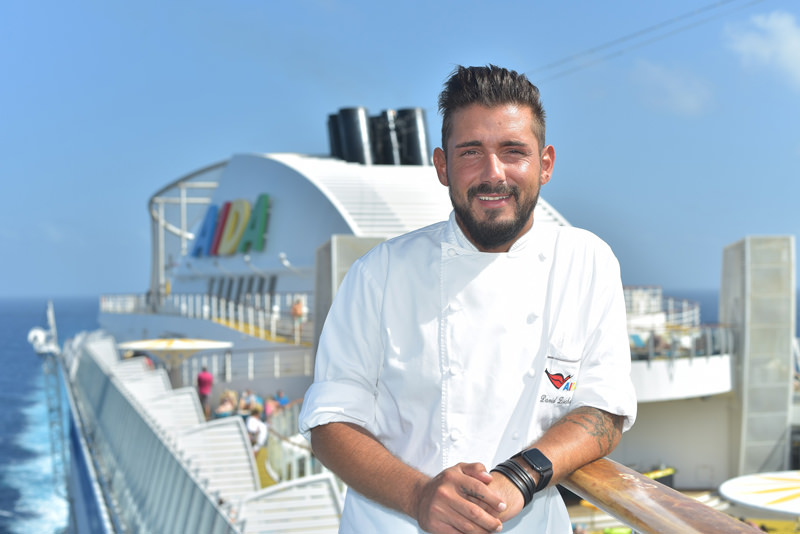 The head chef recommends: passion and a smile
Working on a cruise ship sounds like a dream. So does the reality live up to the dream? AIDA shows what it's really like – from the point of view of potential candidates. The reality documentary series "The Crew Journey – Ready for the job of your lifetime?" presents life on board in an entertaining and authentic way.
The real life: working on board
The head chef recommends: passion and a smile
David Zischank's career picked up speed when he came to AIDA. In 2010, Zischank joined the team on board as a cook. He gradually rose through the ranks, going from Junior Sous Chef to Sous Chef to his present position as Executive Chef of AIDAdiva, a position that puts him in charge of all restaurants on board. He shares his personal highlights, goals and useful tips for applicants.
What items on your bucket list have you been able to tick off since you started working for AIDA?
I have always loved traveling and visiting other countries. My work on AIDA has played a decisive role in enabling me to experience so many different destinations, sights and cultures.
What does the average working day of an executive chef involve?
As executive chef, I am responsible for all culinary organisation, the choice of meals on board and for the entire kitchen team. We have seven restaurants on board the AIDAdiva, and so I spend quite a lot of time in meetings. I am always willing to take on any challenge that crops up – and always with a focus on making sure that our guests enjoy a truly unforgettable holiday.
What's the best part of life on board?
Living side by side with so many cultures – for me, that is one of the best things about life on board.
What has been your personal highlight so far in your time with AIDA?
There have been so many personal highlights that it is very hard to pick a particular one. First of all, there is being able to work where others spend their holidays. My parachute jump over Dubai is definitely up there at the top. An absolute highlight was being promoted to executive chef on a cruise ship – in a dynamically growing company that is also the number one on the German market!
So what's next on your AIDA bucket list?
I want to take the smile on the prow of our ships into the kitchens – called the "galley" on board a ship. And I want to do everything I can to make our guests feel completely at home on board.
And what would you recommend for someone thinking about applying for a kitchen position on board the AIDA fleet?
For the position of executive chef in particular, I would recommend having a deep passion for the vocation of chef plus a pinch each of ambition and tolerance and, of course, smooth sailing!
Which tips would you give young candidates?
Don't be afraid of rising to challenges, and always be open and honest to yourself and the person opposite you.
Three real candidates, three real jobs and, at the end, perhaps a dream job. That, in a nutshell, is the storyline of The Crew Journey. The reality video show takes candidates and audiences on the AIDAperla to the Caribbean – a dream destination, and one where the candidates have to show that they're seaworthy and up to the challenges of the job.
Depending on their previous experience, the protagonists take a look behind the scenes in Gastronomy, Activities and Guest Services … and get to experience the various tasks and unforgettable perks of life at sea. The Crew Journey remains exciting and entertaining to the very last minute, and is well worth watching. The three young people authentically share their experiences and challenges with viewers.
"The Crew Journey" is the second reality show by AIDA Careers. Last year, six crew members shared aspects of their work on Instagram as "The Crew".
AIDA Cruises employs 15,000 people from 50 nations on shore and on board the 13 AIDA ships. By 2023, the company will be putting three more cruise ships into service – meaning that the job prospects are excellent. For more details, visit AIDAS career page.