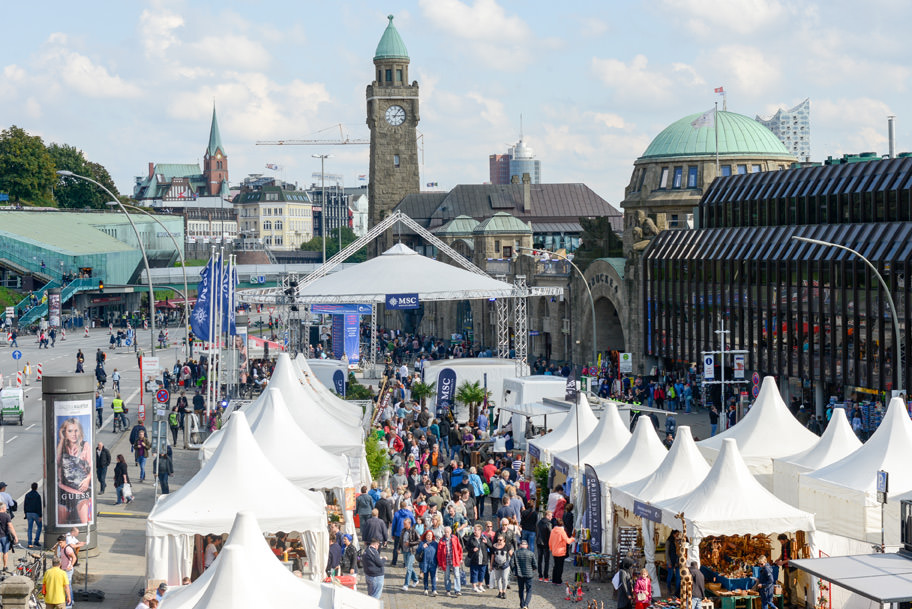 2018 proved to be another highly satisfying cruise season for Cruise Gate Hamburg GmbH (CGH). The operator of Hamburg's three terminals expects cruise travel in the city to continue to grow sharply. In 2018, CGH recorded 220 calls and probably over 915,000 passengers (2017: 198 calls, 813,000 passengers). The figures exceed the 880,000 passengers originally projected for this season. From 2015 to 2018, the growth rate jumped by 76%.
Around 500,000 visitors came to the waterfront in Hamburg to celebrate the Hamburg Cruise Days. What was even more fantastic was just how satisfied they were with the event, as the results of a visitor survey reveal. The survey was commissioned by the Hamburg Convention Bureau in order to assess the relevance of the Hamburg Cruise Days for Hamburg.
When does the event start? Which ships are coming? When is the Grand Hamburg Cruise Days Parade? Which ships will be taking part? When does the firework display start? Which Theme Islands are there? When does Blue Port start? Where can I book escort cruises? One event – many questions! Read on for all you need to know about the Hamburg Cruise Days
Welcome to the biggest and most beautiful cruise festival in the world: the sixth Hamburg Cruise Days, which take place from 8 – 10 September 2017, will again be attracting hundreds of thousands of people from all around the world to the port of Hamburg. A grand total of 11 cruise ships will be calling in on Hamburg during the event – a new record. And the fantastic entertainment won't just be taking place on water: visitors on land are also invited to immerse themselves in the vibrant programme.
The countdown has begun on the Hamburg Cruise Days website, and all over the world cruise enthusiasts are eagerly anticipating the start of another inspiring event: from 8 – 10 September 2017 the popular maritime event will be taking place for the sixth time, again attracting hundreds of thousands of spectators to the quaysides in Hamburg.