Have we forgotten how to relax?
When was the last time you really and truly switched off? A survey conducted by TUI Cruises returned some alarming results: only 8% of us regularly achieve that necessary state of relaxation that allows us to recuperate. So here are some suggestions for taking time off and treating all your senses to some essential TLC on board.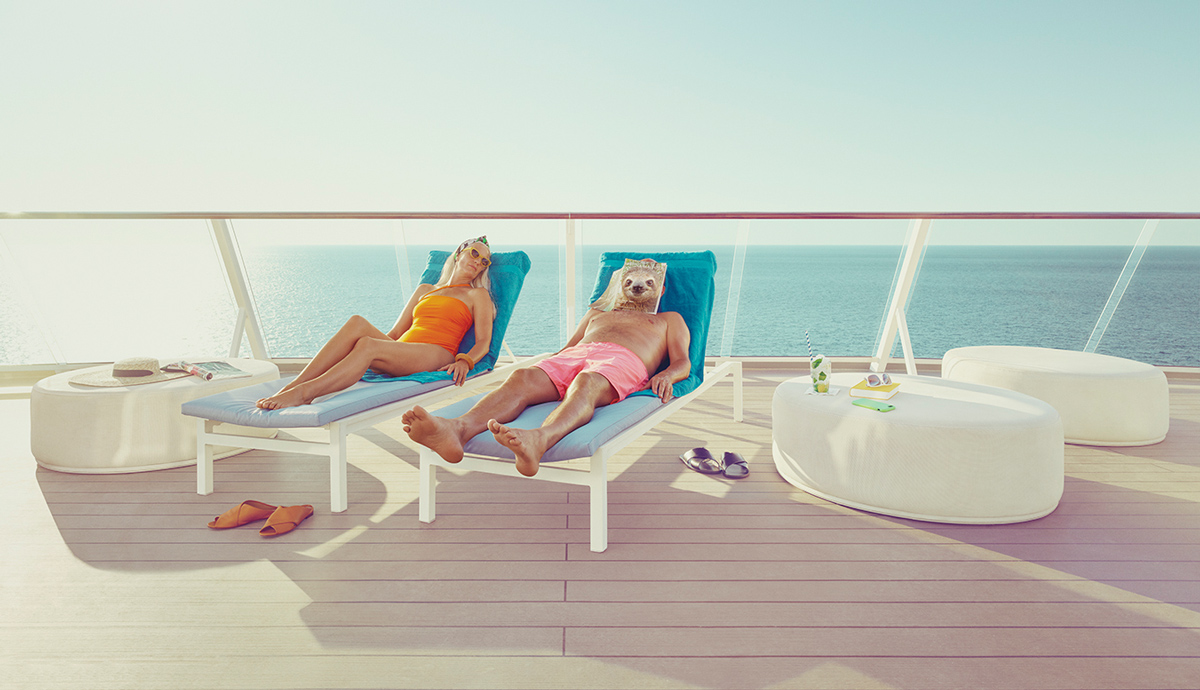 You are by the seaside. You see the horizon in the distance, hear the waves crashing, smell the fragrance of sun cream, feel the warm rays on your skin, and taste the salt water on your lips… Your stress levels have probably gone down just by reading those lines. That's not out of the ordinary, as over half of all the Germans, Austrians and Swiss who took the survey said that precisely this scenario makes them feel happy and relaxed.
TUI Cruises asked Statista to conduct a representative survey of the holiday habits of 2000 respondents. The results were very enlightening – and at the same time slightly concerning. While 96% of those surveyed agreed that relaxation and regeneration are important, alarmingly few actually manage to free up time to consciously relax: only 8% regularly succeed in attaining that all-important state of relaxation.
These results do not automatically lead to a call for more holidays – but for better ones. The well-known television and internet medical professional Dr Johannes Wimmer explains: "People today have forgotten how to really relax. At the same time, relaxation has become more important than ever. We live in an 'always-on' age and that wears us down." Noise, busy schedules, the expectations of others and perpetual availability are all factors that were mentioned in the TUI Cruises survey as being especially stressful. "It is a fact that you can't just relax on command; you need a certain 'warming-up' period", says Dr Wimmer, explaining how relaxation works. "That is why holidays are so important from a medical point of view in order to leave everyday life and stress behind."
The sea beats the competition from any other holiday location. Over 75% of the respondents agreed that the smell of the sea and the sound of the waves are part of a successful holiday. But what many may not realise is that relaxation is always an experience for all the senses. Dr Wimmer explains: "Our five senses – hearing, taste, touch, smell and vision – all play a crucial role in helping us to relax."
These senses are all stimulated in different ways on a cruise. "The conscious application of the senses makes it a lot easier for us to achieve relaxation mode", says the medical expert. For example, gazing out to sea during a cruise: "Vision is our strongest sense, and looking out into the distance has something magical about it. Looking at the distant horizon gives us a feeling of freedom. Behind the horizon lies the unknown, the undiscovered. If you gaze into the distance, it is easy to shrug off everyday life and build a distance between those mundane problems and the present moment in time", says Wimmer. "In psychology, the sea also has a very special meaning. It is perceived as a place of peace and tranquillity."
Cruises also cover a lot of other aspects that help people to switch off. Lazing around and doing nothing, enjoying good food and drink, reading books and magazines, or wellness: according to the survey, these are the most popular ways of relaxing.
Take some time off! This is the motto and recommendation TUI Cruises has distilled from the extensive survey. It is a call to unwind and pamper those senses – and a guideline for conscious relaxation on board that takes in the eyes and ears, taste buds, nose and emotions. And, as an added bonus: the signature colour of the sky, the sea and cruises – blue – is also the colour that 50% of those surveyed said was the most soothing, relaxing colour. What are you waiting for? Take a trip into the relaxing blue!
A dinner date on board with Dr Johannes Wimmer and Monica Ivancan: the medical expert and the nutrition and fitness expert talk about how to use the senses – and how to ensure that a cruise remains unforgettable.
Pictures: (c) TUI Cruises