Digital communication and digital processes
are playing an increasingly important role on board: we take a glimpse behind the scenes.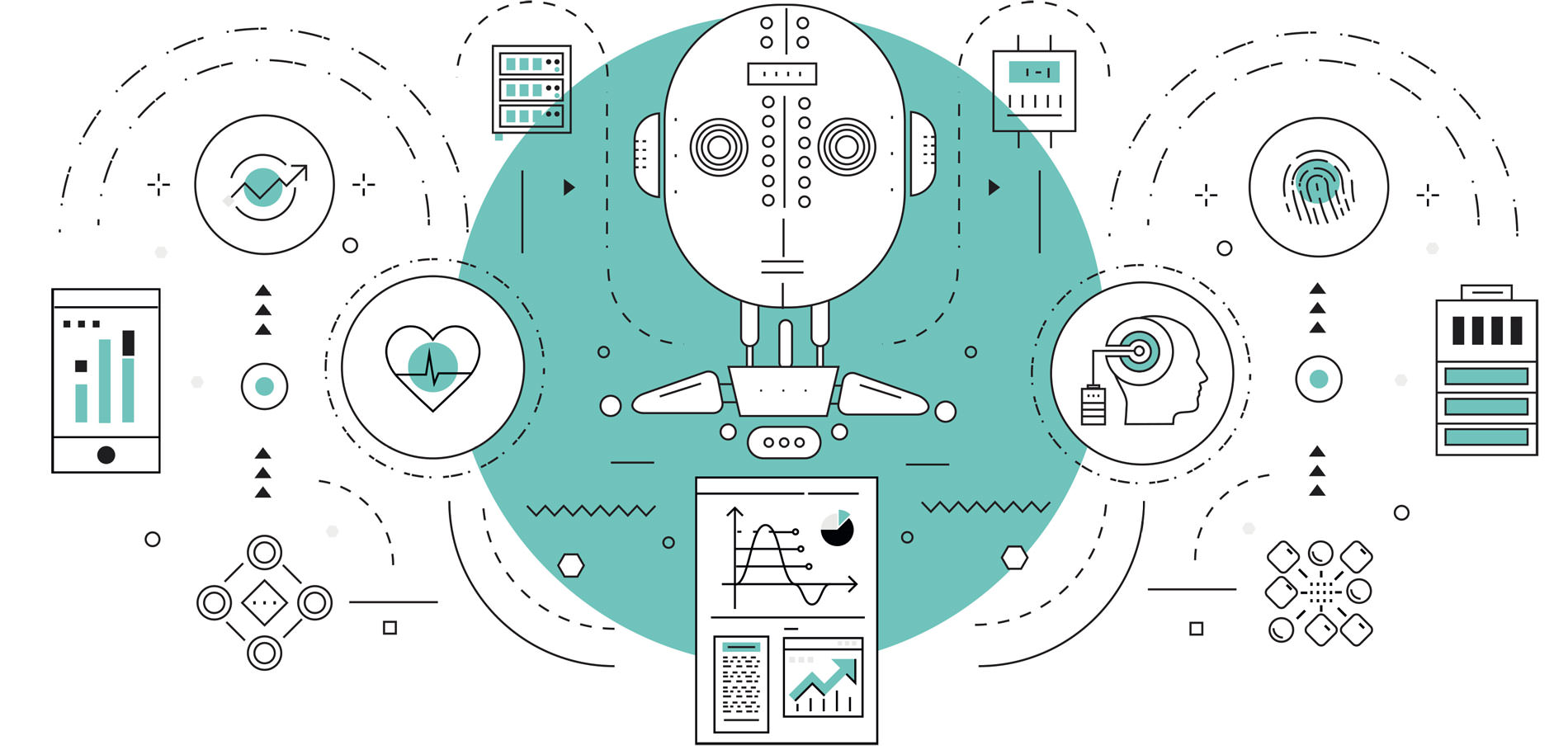 Pepper stands attentively in the lobby, greeting passengers with an almost expectant gaze. He has numerous jobs on board, like assisting passengers during embarkation
or helping them choose a restaurant. He speaks several languages, is content with very little, he's astonishingly agile and you can even touch him. With skills like these, he almost sounds human – but Pepper is an emotionally interactive, speaking robot with the novel ability to "read" human emotions. Since 2016, Pepper has been helping passengers on board selected AIDA Cruises and Costa Cruises ships. The key features of this diminutive robot include a 10-inch touchscreen,
17 joints, three wheels and a 3D camera to detect people and movements.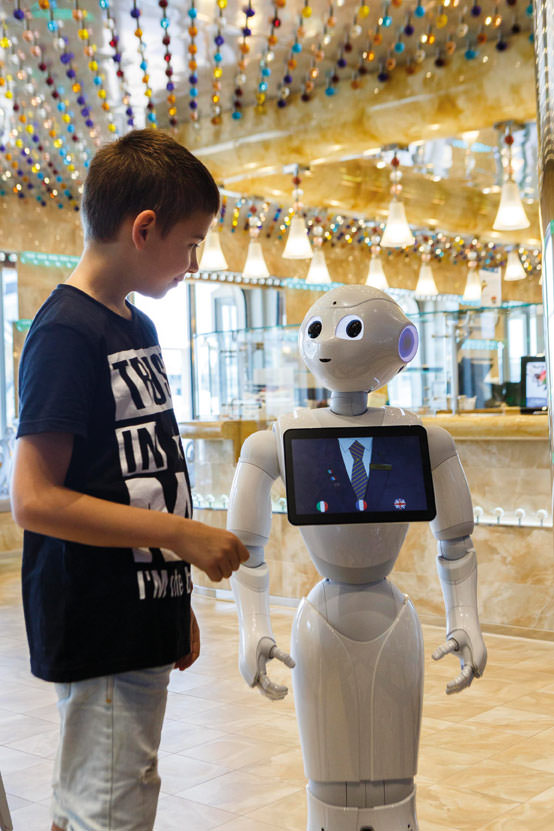 Digitalisation in the cruise industry has multiple faces, many of which are consumer-facing: some are entertaining like Pepper, some are spectacular, like the hologram stages on Mein Schiff 5 and 6, and there are helpful ones, like the Virtual Reality glasses that allow guests to "go on board" at the travel agency. Then there are the applications that passengers rarely get to see, keeping everything running smoothly in the background on the bridge, below deck and on land.
Smart technology on board
Digitalisation is a major topic at GE's Marine Solutions, an industry giant that develops hardware like engines or gas turbines as well as many other products. When the Queen Mary 2 went to the dry docks in Hamburg in October 2016, GE was part of the team. The GE technical components were fitted in record-breaking time, largely due
to the fact that the parts had already been tested and approved in France – in a real-time simulator. Tim Schweikert, President & CEO of GE's Marine Solutions, believes that the entire marine "ecosystem" is currently undergoing substantial change. Schweikert knows that the industry is faced with a number of challenges: "Unplanned downtime for any cruise line can cause interruptions to passengers' journeys, loss of revenues and potential brand damage. Analytic tools can predict an equipment's potential failure before it becomes an operational disruption, avoiding disruptions during the voyage."
"Digital technology can also help improve fuel efficiency by analysing weather conditions and currents to optimise propulsion rate and speed" says Schweikert. "It can help operators make smart decisions to change to use cleaner fuels on the course of the route, further curbing emissions and cost of fuel. While stringent regulations and new destinations may provide new challenges, they bring with them a host of opportunities. The cruise industry will benefit from more efficient operations with reduced environment footprint by dipping into digital waters, ensuring a smooth and pleasant journey for passengers," adds Schweikert.
Cruising 4.0 – on a wave of digital data
All stakeholders in the maritime industry have embraced digital processes. For instance, the
Sea Traffic Management (STM) project, which
is funded by the European Union and which
over 50 businesses, authorities and institutions from 13 countries have signed up for. Its aim is
to make shipping safer, more efficient and more eco-friendly by collecting and exchanging data. The concept enables ships to avoid very busy routes and heavily trafficked areas or eco-sensitive zones, to exchange safety information and optimise the time spent in port. Project members include ports, like Barcelona, research institutes such as Fraunhofer and Flensburg University, official authorities, like the Norwegian Coastal Administration and the Danish Maritime Authority, as well as numerous enterprises, including Costa Crociere, the Finnish ship building company Wärtsila and the Danish software manufacturer Navicon.
Are cyberships taking to the high seas?
Classification society DNV GL has also joined the digital party and now not only offers shipping companies fleet monitoring software but has also recently opened its own fleet performance centres in Hamburg and Singapore. Operating data transmitted from the ships of DNV GL's customers is monitored in these centres, and experts supervise processes and help to optimise efficiency.
Ship classification company Lloyd's Register has defined six Autonomy Levels (AL) which take ship operation into the future: at the top of the new scale is level AL6, the fully autonomous ship – an option that is not completely inconceivable for cargo ships. A small glimpse of what the future could hold are the first semi-autonomous ferries that will start operating in Norway in 2018. Processes that have energy-saving potential, for instance acceleration or braking, would be controlled by smart systems on board. The critical sections of a journey remain firmly under human control: the captain will still steer the ship during mooring and departing. Cruise passengers have every reason to look forward to this fast-approaching tidal wave of digital change. For them, digitalisation – both on and below deck – definitely guarantees even more safety, dependability and comfort.
Photo: Costa Kreuzfahrten