Carnival Corporation, the world's biggest cruise company, monitors its fleet around the clock from a number of locations, including Hamburg. We visited the Fleet Operations Center in HafenCity.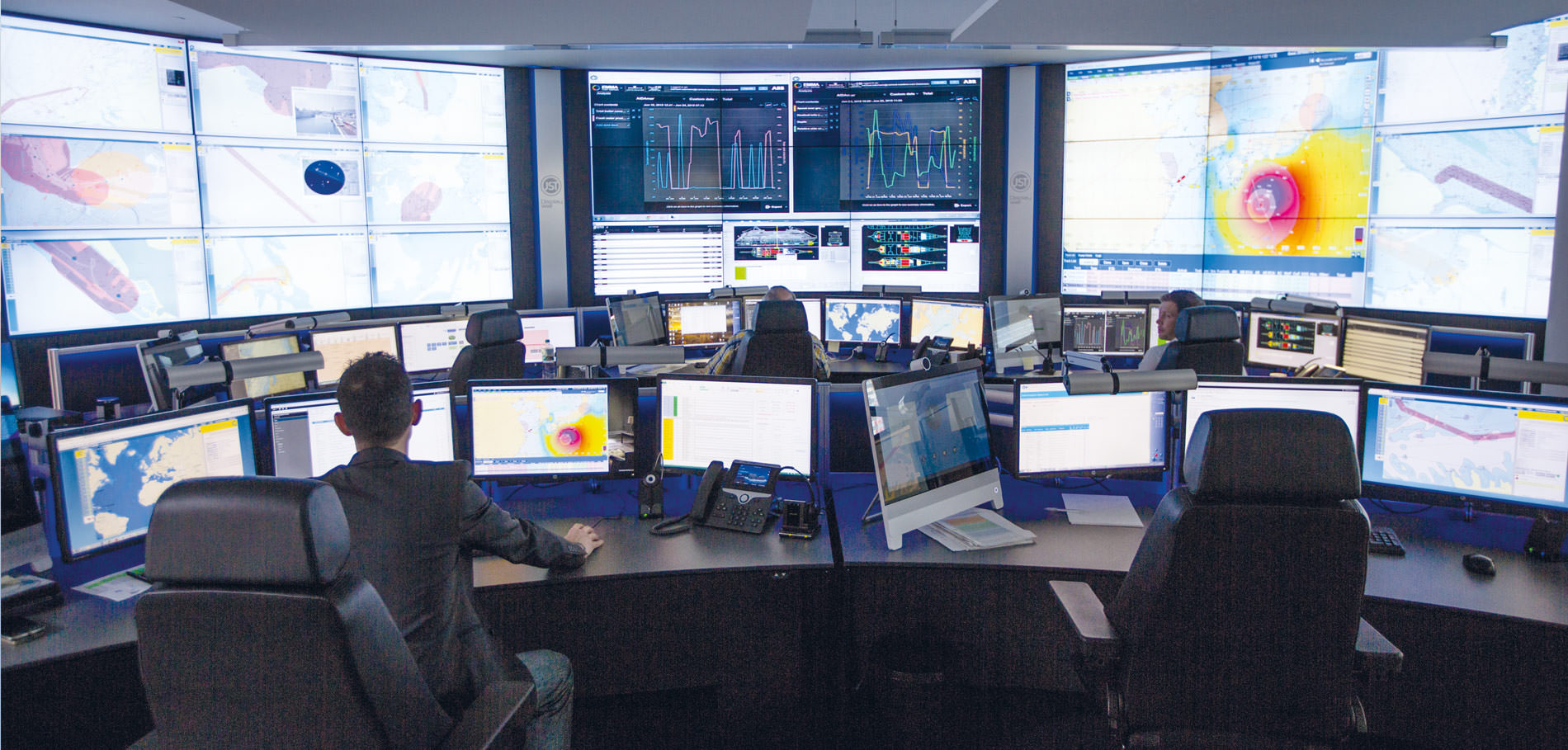 Absolute concentration, day and night:
the crew at the Fleet Operations Center in the HafenCity keeps a close watch on their fleet.
The room hums with the buzz of tense concentration. Three officers keep a close watch on their monitors. Up ahead of them is a
wall covered with screens showing nautical charts with blinking symbols, brightly coloured weather maps, tables, diagrams. A fresh breeze wafts from the air conditioning unit – a deeply symbolic detail, because the most important thing you need to work at the Carnival Maritime Fleet Operations Center is a cool head.
The Fleet Operations Center (FOC) is the technical heart of Carnival Maritime's Hamburg facility. When Michael Salzmann, the Senior Superintendent Fleet Operations and the man in charge of this center, shows visitors around "his" facility, he's obviously in his element and filled with pride. Salzmann, a former sailor who served as first officer on container ships before switching to the cruise industry, explains the center's purpose: "From here, we keep a close eye on the 38 ships of the Carnival Group, which are Costa, Costa Asia and AIDA, as well as the ships of the British lines Cunard and P&O Cruises," he says. The screens also display the movements of all Carnival ships worldwide, which are monitored meticulously at the Group's three Fleet Operations Centers: in Hamburg, in Seattle and in Miami.
"Our duties cover three strategic areas. The first is safety: where are our ships and what route will they be taking?" Ships are tracked using standard corridors between the ports. "If any one of our ships leaves this corridor it automatically triggers a signal here at the center. Usually, the reason for leaving the corridor is to maintain the safe distance to another ship. However, it could also be an emergency med- ical evacuation. In this case, the ship has to get to a prearranged meeting point to rendezvous with a helicopter or an emergency vessel," says Salzmann. "Whatever happens, we're always here, watching it digitally."
Crisis management is another task – or "operational problem handling and escalation," as Salzmann describes it. "In a nutshell, most incidents are weather-related. For instance, if we see strong winds approaching a particular port our task is to decide whether we should let the passenger change-over go ahead as planned; does it make sense to enter the port earlier and get the three to four thousand passengers on board before this bad weather system hits the ship? Do we need to direct the ship to a different port, and then provide transfer shuttles or even flights for our guests?" Questions like these get Carnival's well-oiled machinery ticking over. The solution is discussed with all relevant departments, a collaborative piece of decision-making that demands sophisticated logistical planning. "Just like in aviation, we can't afford to arrive late. It's not just about the berth times in the port, but also about our guests missing out on their holiday enjoyment," says Michael Salzmann. Additionally, the ships aren't just taking on passengers, they also need to load food supplies. "Roughly 260 containers have to be planned and unloaded punctually every week."
Salzmann's team is also responsible for providing nautical support for Costa and AIDA: "Costa is currently busy planning the 2019 catalogue; amongst other things our job is to check whether the routes make nautical sense and whether the times are feasible." The navigators also plan well ahead into the future: "With ships getting larger and larger, we need to calculate whether a particular port will still be accessible in five years' time. To be on the safe side, we can also test this in the simulation center."
All of these monitoring and control processes rely
 to a crucial extent on digital technologies. Michael Salzmann is proud of the "powerful engine" in the Fleet Operations Center: "We invested substantially in technology, which was an essential measure; each ship is fitted with between 16,000 and 20,000 data points, of which 450 are transmitted to us in real-time 24 hours a day; multiply that by 38 ships and you get an idea of the data volume we're handling." Some of the software and technologies were developed in-house. A large volume of data is transmitted from the ship's black box, the Voyage Data Recorder (VDR), which Carnival Maritime had expanded according to the company's specifications. "We contacted the manufacturer and are proud to have done some pioneering work for the industry." The new VDR is installed on all Costa and AIDA ships, and generates data that are saved, accessed in the cloud, and analysed as required.
Recently, the German Shipowners' Association visited Carnival Maritime and was very impressed by the Fleet Operations Center. Salzmann is delighted: "We engage in active communication across our industry. Everyone is interested in more safety and service, and everyone hopes to monitor, track and improve the efficiency of ships with best practices. We can learn from each other. There's no rivalry when it comes to safety."
Photos: dpa/Carnival Maritime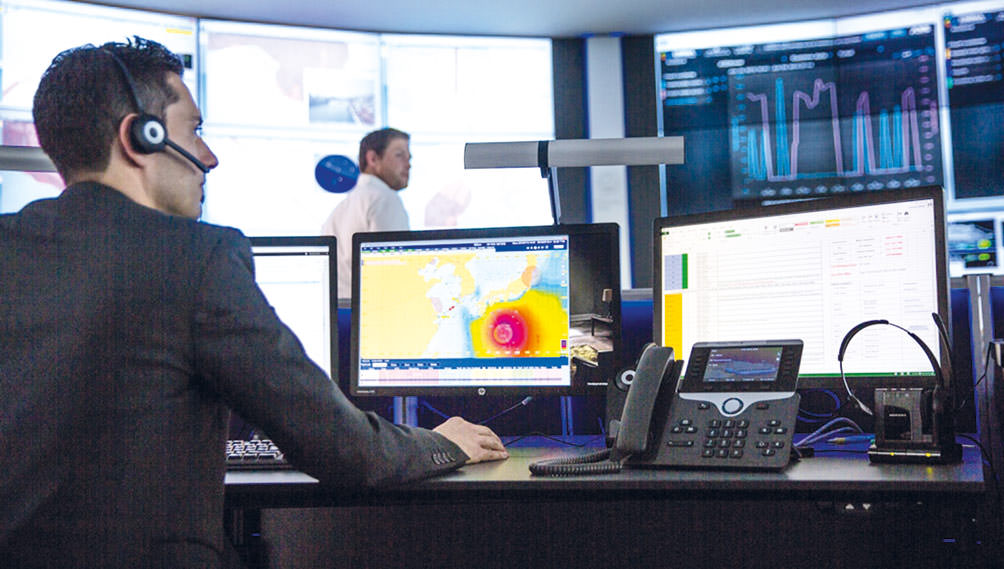 A vast quantity of data is collected at the Fleet Operations Center, allowing the team to monitor operations.
Safety first – 24/7
The Carnival Maritime Fleet Operations Center operates seven days a week, 24 hours a day. The shift plan is unusual: four day shifts from 8 am through 8 pm and then four days off, then three night shifts and another four days off. The staff specifically  requested the 12-hour shifts and this particular rhythm. "The 'crew' comes from  Germany, Poland, Italy and England," says Michael Salzmann, who heads the center.
The FOC Hamburg employs 15 experienced mariners, including three women; the required qualifications are nautical training and at least three years' active service at sea – ideally on a cruise ship.