If you travel, you get to see new countries, experience new cultures, people and beliefs. And if you travel on the Costa Smeralda, this experience starts the minute you step on board. Costa Crociere's new LNG flagship is Italy – largely thanks to Adam D. Tihany, one of the world's most renowned architects.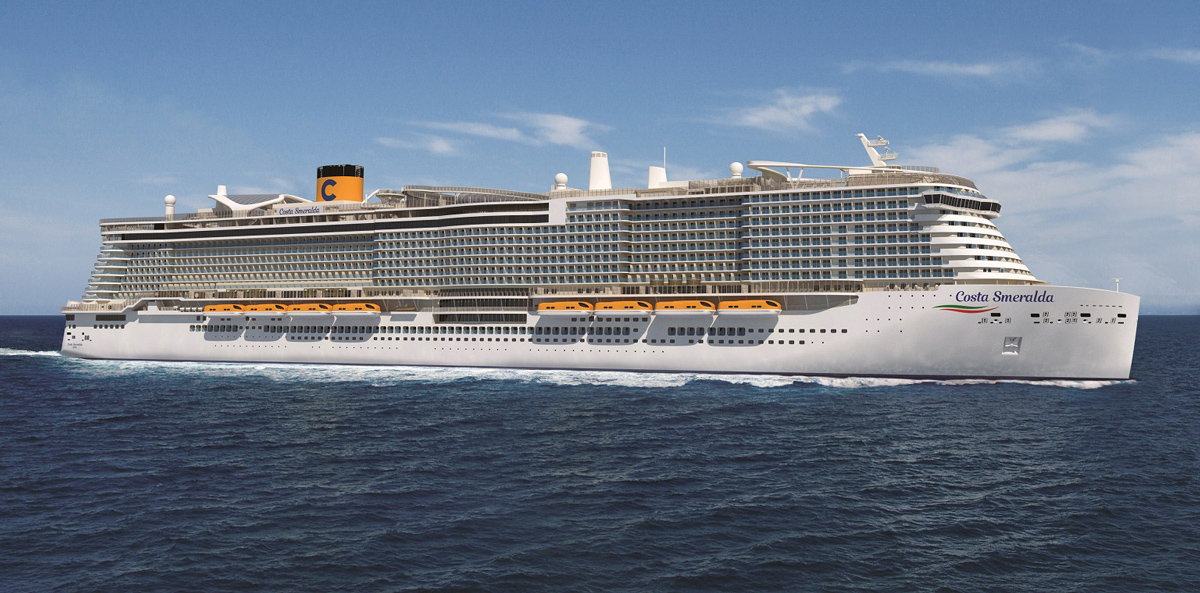 Exclusive restaurants, luxurious hotels and now the Costa Smeralda: Adam D. Tihany is a man who is much in demand – and he's also a bit of a globetrotter. The architect's exquisite interior design can be admired all over the world: at the Mandarin Oriental Manhattan, the Aleph Hotel in Rom, The Beverly Hills Hotel, at China World Summit Wing in Peking and in many other places.
"Italy's finest" was the motto he chose as his design brief for the Costa Smeralda. "It's a place where every taste feels like a dream and where time itself seems to slow. Here style is king, beauty is queen. This for me is Italy's finest", he explains. Italy also plays a key role in Tihany's life: the cosmopolitan designer was born in Romania, spent his childhood in Israel and then moved to Milan to study architecture. He now heads his own design studio in New York.
It takes an expert to spot Tihany's design signature, as a refusal to repeat himself is one of his guiding principles, as is his complete and utter immersion in the space he is designing. Each location and project is different, and so is the design he creates for them. It goes without saying that Tihany has long been a master of what modern marketing pros like to call "storytelling": his interiors weave stories and create engaging experiences.
Costa Smeralda is perfect proof of this: to come aboard this ship is to travel to Italy, no matter where you actually happen to be heading. The decks are named after the country's most beautiful cities and each captures the unique spirit of its namesake. The walk from the elevator to one's cabin is transformed into a stroll through the city.
As Creative Director of Costa Smeralda, Tihany says he was allowed to do "all the fun stuff". He created the style of the ship and selected the designers and partners who were entrusted with turning his creative vision into reality: Partner Ship Design from Hamburg, Rockwell and Jeffrey Beers from New York and Dordoni Architetti from Milan.
Rodolfo Dordoni and Luca Zaniboni were responsible for the interior design of the cabins, and they believe that "an Italian ship is always a part of Italy, regardless of where it is in the world." "We wanted to give each detail a personal touch with specially crafted pieces which were made in collaboration with some of Italy's finest design companies." The aim was to make the cabins more contemporary and innovative – and unmistakably Italian in the colours, shapes and decors, materials and textures. The sofas and armchairs are by Molteni, the balcony furniture is by Roda, lamps and lighting by Flos, luxurious fabrics and upholstery by Dedar and Rubelli.
For Adam D. Tihany having original design from Italy was non-negotiable: "I contacted 15 renowned Italian furnishing and design companies to ensure that our team had access to the best of "Made in Italy". Usually, it takes between three and six months before you get an answer from the big brands, and usually it's a no. But for this project every single one got back within three days, and they all accepted." Tihany has an explanation why this was the case: "It is about working with Costa to revive Italy's national pride. And everyone wants to be a part of that."
The Italians have every reason to be proud: architecture and furniture design, fashion and textiles, aircraft design and culinary arts are only a few of the areas in which Italy excels and draws on a long tradition. For proof of just how vibrant and creative this tradition still is, look no further than furniture trade shows, auto salons – and everyday life across Italy. From the Vespa to the espresso maker: Italian design classics are everywhere.
The master was thrilled to be allowed to create the first design museum on board a cruise ship. Aided by curator Matteo Vercelloni, Professor of Design History at Milan Polytechnic, Adam D. Tihany compiled the Co.De – the Costa Design Collection. The exhibition presents the many different facets of Italian lifestyle and Italian design: furniture, fashion, transport, mementos. The show is living proof of why design "Made in Italy" became so famous all over the world. And what's even more astonishing is that 85% of the items on show are still being made, including products from the 1950s but also a Superga tennis shoe from 1925. The walk through the collection is equally stunning: the illuminated stainless steel tunnel and open, ring-shaped apertures allow visitors to explore the exhibition at their leisure.
A ship that is a fully immersive experience, with fascinating history and inspiring stories around every corner; a place where passengers can discover and savour the many different facets of Italian lifestyle every time they take a stroll: welcome to the Costa Smeralda! After the successful completion of this project, creative director Adam D. Tihany is turning to new challenges. One of them happens to be another ship for Costa Cruises….we can't wait!
Adam D. Tihany was born in 1948 in Targa Mures, a small town in Transylvania, Romania. His parents emigrated to Israel in 1950; he grew up in Jerusalem and went to Milan to study architecture. His focus on restaurants and hotels was a coincidence – there wasn't much choice for those who wanted to make a living working in architecture. In 1975, Tihany moved to New York, where he set up his own studio in 1978. Thanks to his creativity on board, Condé Nast Traveller has ranked him as one of the "15 Celebrities Changing the Way We Cruise Today".