Three Cruise Centers await the stars of the Hamburg Cruise Days 2019. For details of which ship docks where and when, read on.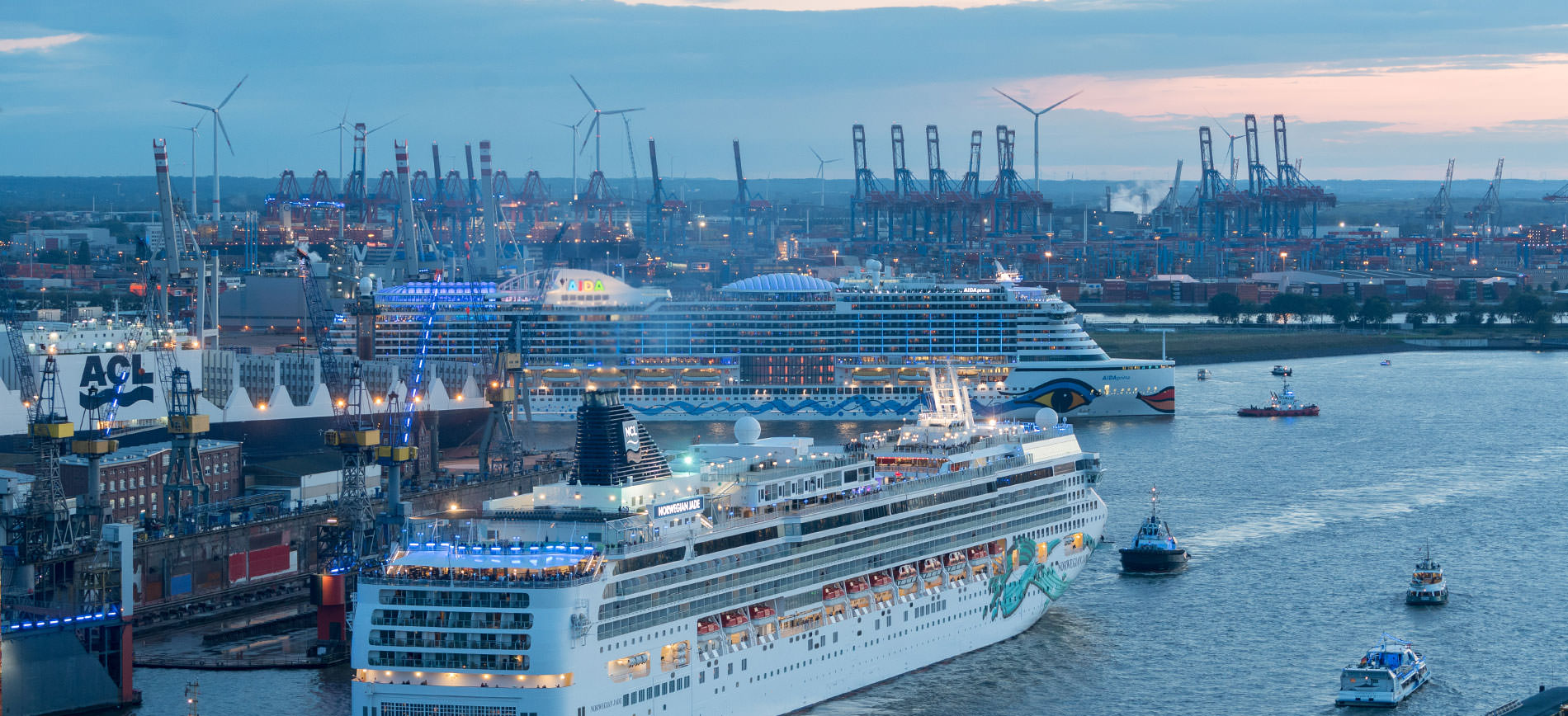 The ships are the unrivalled stars of the Hamburg Cruise Days. Now, we're proud to announce the final line-up for the event from 13-15 September: 12 ships will be calling in – a new record!
The ships include the AIDAperla, AIDAsol, AIDAvita (AIDA Cruises), Amadea (Phoenix Reisen), Costa Mediterranea (Costa Cruises), EUROPA and EUROPA 2 (Hapag-Lloyd Cruises), Mein Schiff 4 (TUI Cruises), MSC Preziosa (MSC Cruises), World Explorer (nicko cruises) and the river cruisers Frederic Chopin (nicko cruises) and Sans Souci (Plantours).
For the Grand Hamburg Cruise Days Parade five cruise liners will sail downriver to the mouth of the Elbe, accompanied by escort boats and a lavish firework display. The parade will be lead by AIDAperla, followed by EUROPA, MSC Preziosa, Mein Schiff 4 and World Explorer (this order may change). For all those who can't be there in person, NDR television will be broadcasting the event live.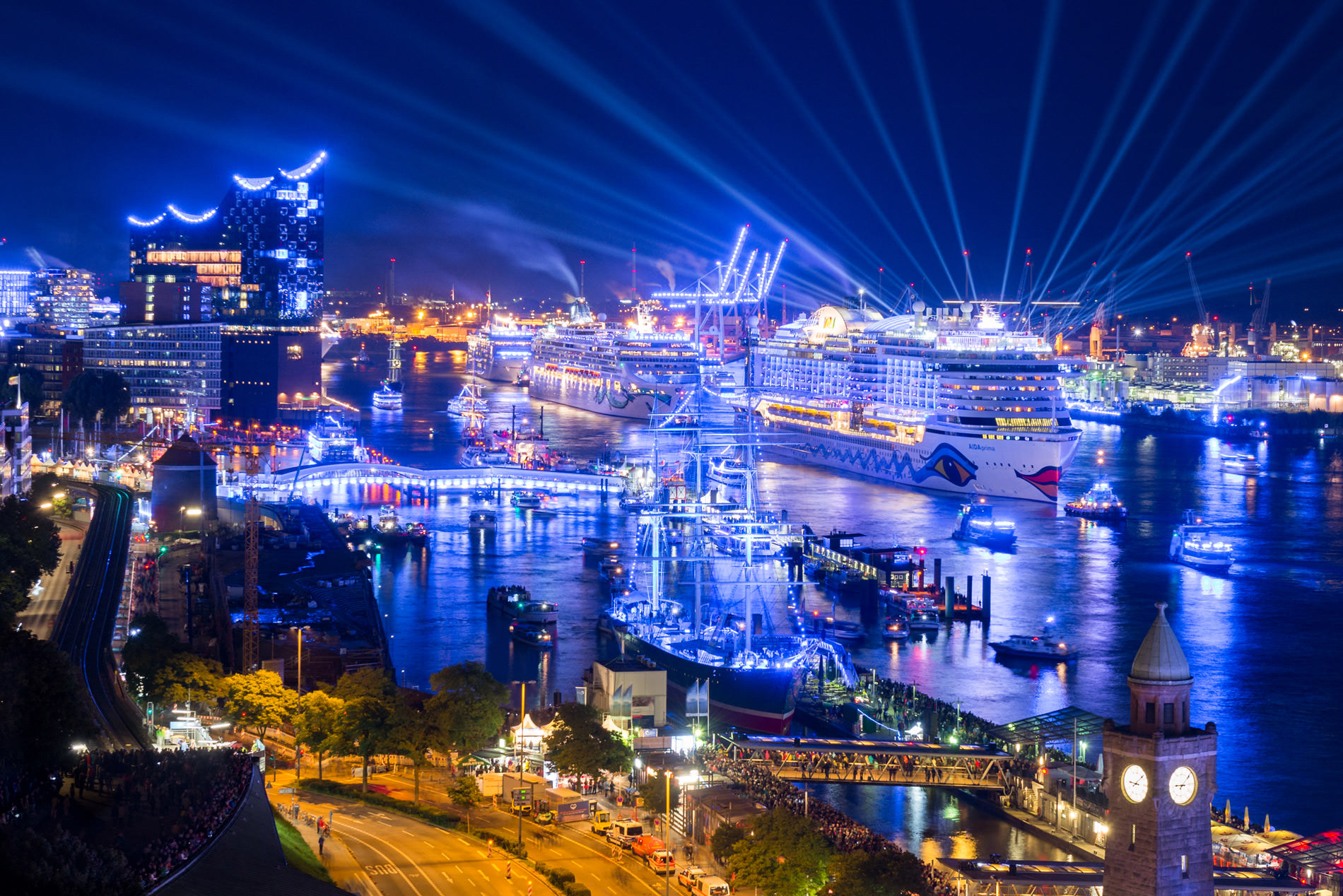 | SHIP | OWNER | ARRIVAL | DEPARTURE | TERMINAL | SHIP PROFILE |
| --- | --- | --- | --- | --- | --- |
| AIDAperla | AIDA Cruises | Saturday|14.09.2019|8 a.m. | Saturday|8 p.m. | HCC3 (Steinwerder) | Click here. |
| AIDAsol | AIDA Cruises | Friday|13.09.2019|8 p.m. | Friday|6 p.m. | HCC2 (Altona) | Click here. |
| AIDAvita | AIDA Cruises | Sunday|15.09.2019|8 a.m. | Sunday|6 p.m. | HCC2 (Altona) | Click here. |
| AMADEA | Phoenix Reisen | Friday|13.09.2019|8 a.m. | Friday|11 p.m. | HCC1 (HafenCity) | Click here. |
| Costa Mediterranea | Costa Crociere | Friday|13.09.2019|07.30 a.m. | Friday|9 p.m. | HCC3 (Steinwerder) | Click here. |
| Mein Schiff 4 | TUI Cruises | Saturday|14.09.2019|05.30 a.m. | Saturday|9 p.a. | HCC2 (Altona) | Click here. |
| MS EUROPA | Hapag-Lloyd Cruises | Saturday|14.09.2019|7 a.m. | Saturday|9 p.m. | Überseebrücke | Click here. |
| MS EUROPA 2 | Hapag-Lloyd Cruises | Saturday|14.09.2019|5 a.m. | Saturday|4 p.m. | Kirchenpauerkai | Click here. |
| MS FREDERIC CHOPIN | nicko cruises Schiffsreisen GmbH | Friday|13.09.2019|8 a.m. | Sunday|9 p.a. | HCC2 (Altona) | Click here. |
| MS SANS SOUCI | Plantours Kreuzfahrten | Saturday|14.09.2019|1 p.m. | Sunday|2 p.m. | HCC3 (Steinwerder) | Click here. |
| MSC Preziosa | MSC Kreuzfahrten | Saturday|14.09.2019| 7 p.m. | Sunday|6.30 p.m. | HCC3 (Steinwerder) | Click here. |
| World Explorer | Mystic cruises (nicko) | Saturday|14.09.2019|8 a.m. | Saturday|9 p.m. | HCC1 (HafenCity) | Click here. |
Highlighted = Part of our Great Hamburg Cruise Days Parade.
HCC = Hamburg Cruise Center