The wonderful world of cruises but without actually having to leave dry land – that's the Hamburg Cruise Days 2023 in a nutshell. The shore programme along the riverside from Platz der Deutschen Einheit to Hafentreppe from 08 – 10 September is set to offer stunning highlights: from entertainment to culinary treats, a maritime lifestyle and a charming, relaxed atmosphere.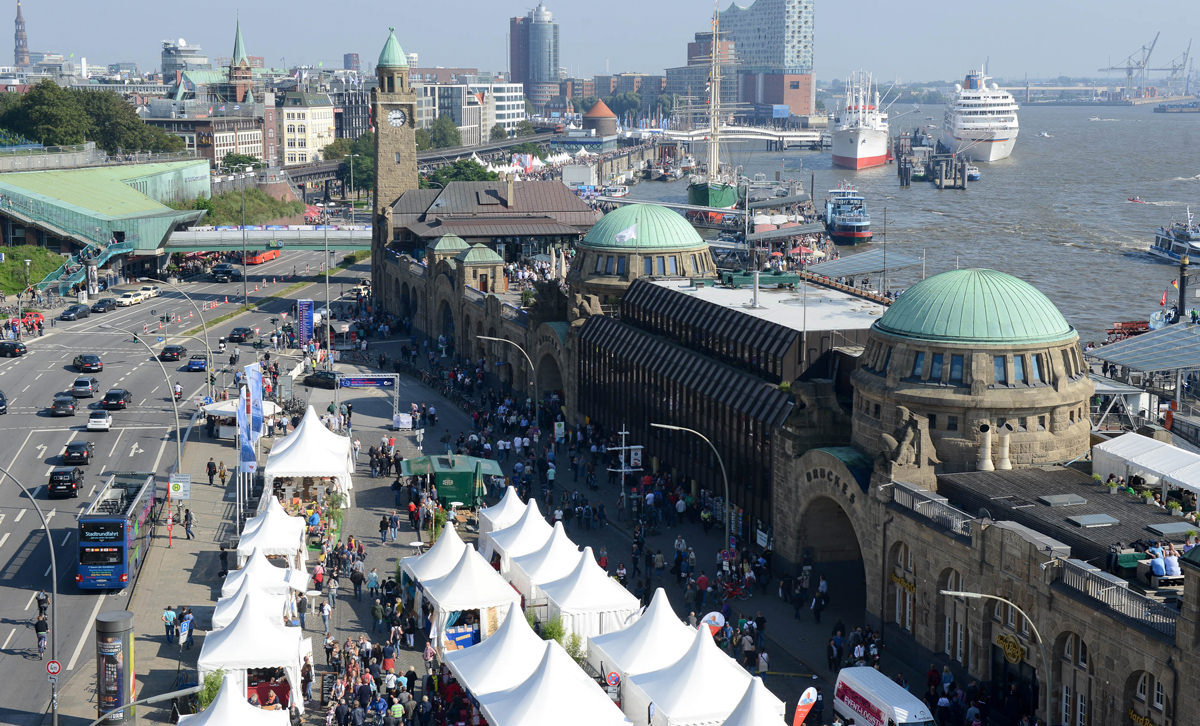 AIDA URLAUBSWELT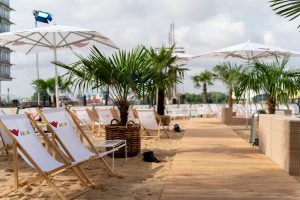 Kehrwiederspitze
Look forward to this year's Hamburg Cruise Days, which we are proud to present as a premium partner. From September 8 to 10, three AIDA ships will be moored in the city. AIDAprima will be part of the evening show on Saturday, and her sisters AIDAperla and AIDAsol will accompany the big departure parade on Sunday. In the "AIDA Urlaubswelt" at Kehrwiederspitze in HafenCity, with raffles, great activities for little buccaneers and musical entertainment by our AIDAradio team await.. Discover your home at sea in the original AIDAcosma show cabin and let our travel consultants inspire you for your next dream vacation. In the Beach Club you can dream of faraway places, relaxing in a deck chair with sand under your feet and wave to the many ships in the harbor.
CUNARD SHOWTRUCK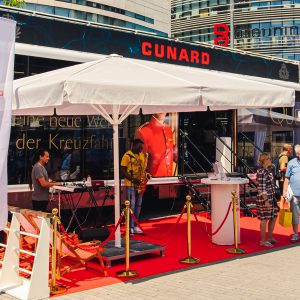 Neue Flutschutzmauer
A visual highlight again: The Cunard Showtruck greets to the visitors of the Hamburg Cruise Days in a classic black and red colour scheme. Here, Cunard's new ship takes centre stage: the Queen Anne will be launched in 2024. Discover all kinds of exciting facts about the new Queen of the Fleet on the event area and in the truck itself – including live music, a big travel competition and exciting insights from the world of Cunard.
NICKO CRUISES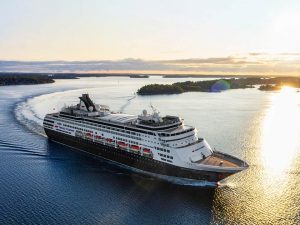 Neue Flutschutzmauer
Let cruise expert nicko cruises take you to some of the most beautiful rivers in Europe, Asia, Africa and, from 2024, the United States. Discover the popular ocean-going ship VASCO DA GAMA, which is departing on an unforgettable journey around the world in October 2023. Experience the world's dream destinations from the water and walk in the footsteps of history's great explorers on land. With nicko cruises, guests travel on small ships well off the beaten path. Long stays in the ports and unique experiences on land give you an immersive experience. Visitors to the stand can look forward to expert advice, detailed information about the cruise services of the Stuttgart-based operator and, with a bit of luck, you could also win a thrilling cruise on the VASCO DA GAMA.
MSC CRUISES PROMENADE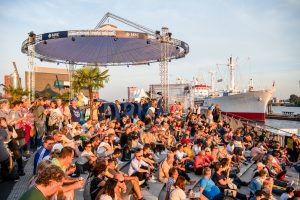 Neue Flutzschutzmauer
An elegant chillout space, great seafood, information, and entertainment to satisfy all generations – that's what awaits visitors to the MSC Cruises Promenade. Listen and dance to a selection of music, including tracks from the lively electro swing scene. You'll also find well-known DJs performing by the seating terraces along the new flood protection wall. In true maritime style, the food is attractively presented in shipping containers, tempting you to sample and enjoy at your leisure. Visitors with the urge to travel will find all the advice and information they need – or can even book their next cruise – in the MSC Lounge.
TUI CRUISES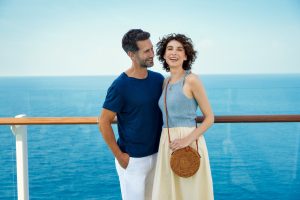 Neue Flutschutzmauer
Prepare for real inspiration as you explore the world of TUI Cruises – Mein Schiff® in the new marquee at the Hamburg Cruise Days. Under the banner EXPERIENCE A NEW DIMENSION IN WELLBEING, we'll be showcasing a glimpse of what to expect on board and revealing some exciting news. Meet the two brand new ships in our fleet, due to launch in spring 2024 and winter 2024/25. Explore our new ship class and find out when you can go on board: this class sets new standards with its architecture and design – including spectacular and innovative venues. Enjoy a first taste of life on board: our relaxation zone with deck chairs invites you to sit down and soak up the view across Hamburg's unique maritime backdrop. Our dedicated land crew will be on hand to answer all your questions. Discover attractive offers, a too-good-to-miss holiday competition and find out about our destinations and special themed and event cruises in 2024 on board Mein Schiff®. We look forward to welcoming you!
HAMBURG CRUISE DAYS STUDIO & INFO POINT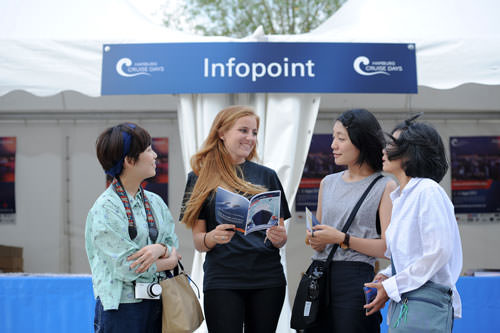 Neue Flutschutzmauer
Get all the latest news from the Hamburg Cruise Days Studio LED video screen. The ROCK ANTENNE Hamburg live show will be broadcast daily on www.hamburgcruisedays.de/en – powered by Westfield Hamburg-Überseequartier. Close by is the Kids & Parents' meeting point and the Lost & Found desk. The 30min live show comes direct from the Hamburg Cruise Days: Friday, Saturday and Sunday at 6.30 pm on hamburgcruisedays.de or youtube.com/@hamburg- cruisedays2023.
KÖNIG PILSENER DECK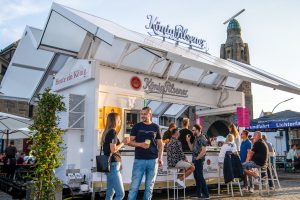 Hafentor
Summer plus sun equals beer garden! Sip a cool König Pilsener and enjoy some nibbles as you relax and recharge for the next attractions.
SALSA DANCING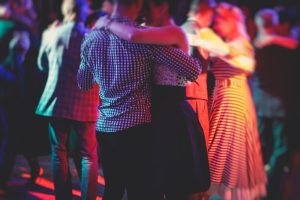 Landungsbrückenvorplatz
Classic, cheerful Salsa rhythms spread good vibes and invite you to dance.
FERRIS WHEEL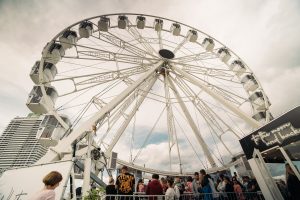 Landungsbrückenvorplatz
Enjoy a relaxing view of the crowds along the riverside, float above the magnificent ships moored in the docks and admire an aerial view of Hamburg – all on the Ferris wheel.
The future of mobility

Hafentreppe
et ahead with the new Yamaha eBikes, which take the electric bicycle to the next level with five exciting models for fantastic cycling fun. Fancy a test ride?
ROCK ANTENNE Hamburg Stage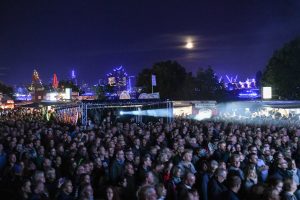 Landungsbrückenvorplatz
The finest live music in cooperation ROCK ANTENNE Hamburg. From Latin to soul, from singer-songwriters to party rock to get you dancing — the best musical entertainment is here from Friday evening to Sunday evening. On Friday evening Stefan Gwildis — BUNT! Live with band will be rocking the stage; Saturday sees Boerney & the Tri Tops bringing a party vibe, while the event powers down on Sunday with a soul rock party by TCS from Denmark.
Kids' World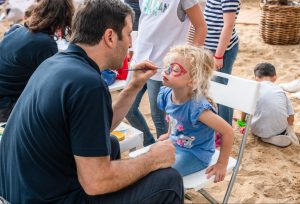 Platz der Deutschen Einheit
Fun, games and creative crafts along the riverside. For instance, with Etienne Favré's magical sound instruments: gigantic sound wheels, musical stairs, boot flutes, broom wheels, an elephant piano, a sound labyrinth and a whole lot more invite youngsters to experiment. There's a circus where kids can try out acrobatics under the expert guidance of the experienced juggler and circus instructor Ingo. Fancy learning how to juggle, walk on a ball, spin a diabolo, rolabola, hula-hoops, unicycles and more? There is also a maritime activity workshop and face-painting for seafarers young and old. Landlubbers are also welcome – a fun time is guaranteed for all.
WALKING ACTS, CABARET AND MUSIC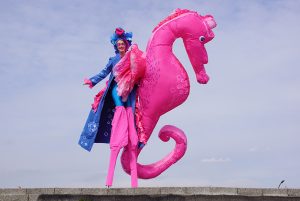 On the entire event area
On all days of the event, great walking acts, cabaret artists and musicians will mingle with the guests, providing surprises and plenty of fun.